(Bookmark This!) Handy List of Free AI Tools
The age of artificial intelligence is here. In the last few years, generative AI has made such significant advancements that it's available to virtually everyone, sometimes for free!
Generative AI is a subset of machine learning that refers to AI models that generate new content (or data) similar to the data they were trained on. In other words, generative AI tools don't just make predictions or decisions based on their training data – they create new, original outputs that can range from text to images to audio to video and more.
The result? Tons of very powerful tools, many of them available for free. Below, we've compiled the best free AI tools you need to know about. Ready to harness the power of AI? Let's get started.
Free AI Tools For Writing And Generating Text
Most recently, AI has been most closely associated with generating text and words.
Want the bots to write you a sonnet about your love for guacamole? No problem.
Need a new tagline for your pillow brand? Here's 20!
Need an excuse for why you can't go to your weird aunt's get-together next week? Kaboom.
These tools will help you put words on the page without picking up a pen or staring at a blank Google Doc for 20 minutes trying to figure out where to start.
The OG. Created by OpenAI, ChatGPT is the tool that got the world talking about generative AI. This AI chatbot harnesses the power of a large language model to create remarkably human-sounding text. You can have conversations with it – or use it to write anything from essays to blog posts, website copy, articles, and more.
GPT-3.5 is available for anyone for free, while GPT-4, a more powerful model, is only available to those with a paid OpenAI subscription.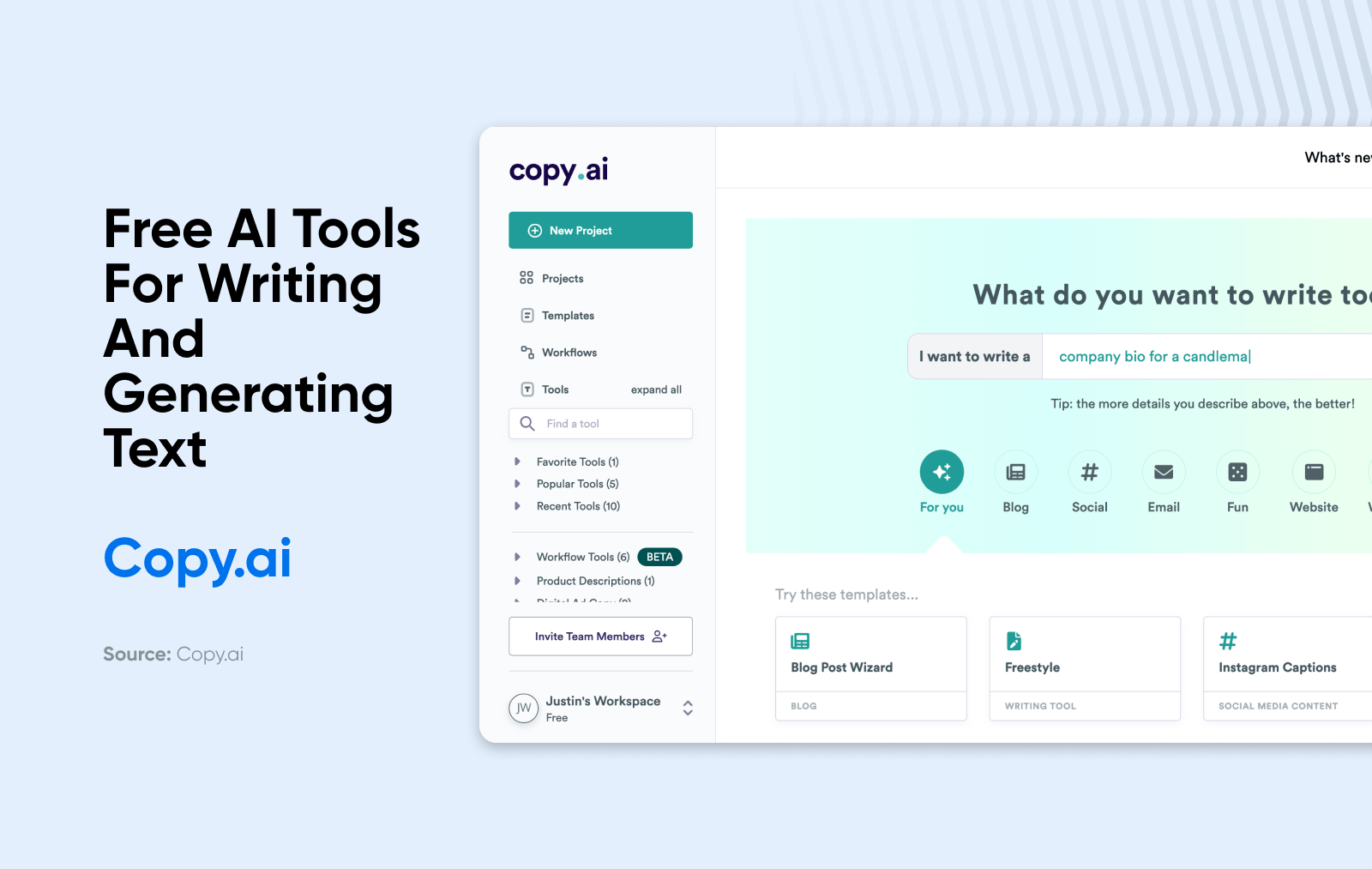 If you're looking for a copywriting tool, Copy.ai may be the AI writer for you. It's just as powerful as ChatGPT, with a few extra features that make it even more useful for people who need to generate text for different purposes. You have the ability to choose the tone of the output, for example, something ChatGPT can really struggle with.
Copy.ai also has preset formats for all different kinds of copy: landing pages, blog posts and headings, product descriptions, even social media posts like LinkedIn headlines or Instagram captions.
Copy.ai has a free version for a single user generating less than 2,000 words at a time. Paid plans can accommodate more users and longer outputs.
Jasper is another AI writing tool. It comes with some handy templates that can help you generate content for everything from blog posts to Facebook posts. What sets Jasper apart from other AI writing tools is that it doesn't just do the writing for you, it also helps you improve your own writing by offering real-time tips, suggestions, and corrections that will level up your grammar and construction.
Unfortunately, Jasper is only free to try for seven days, and requires a paid plan after that. Plans start at $39 per month.
While many AI content creation tools are built on top of ChatGPT, Writer built its own large language model to power its app, which is geared toward enterprise companies that need a writing assistant for, well, pretty much anything. Writer can generate press releases, blog posts, job descriptions, even internal documents. It's made to integrate with existing enterprise tools.
Unfortunately, this is another tool that's only free to test drive. Writer starts at $18 per user per month after your 14-day free trial is up.
Get Content Delivered Straight to Your Inbox
Subscribe to our blog and receive great content just like this delivered straight to your inbox.
Free AI Tools For Generating And Editing Images And Art
What about things that aren't text, though?
You may have heard that there's a whole other category of AI tools that can create images based entirely on text prompts.
"Create an image of a fire-breathing dragon wearing a tutu standing next to Michael Jordan in his prime."
Yes, you can do that.
You can also go one step further and use AI to edit or adjust the existing images. So, instead of spending hours learning and perfecting Photoshop, you can simply touch up your photos with a few clicks and the magic of machine learning.
Here are some tools you might use to create or manipulate your image content.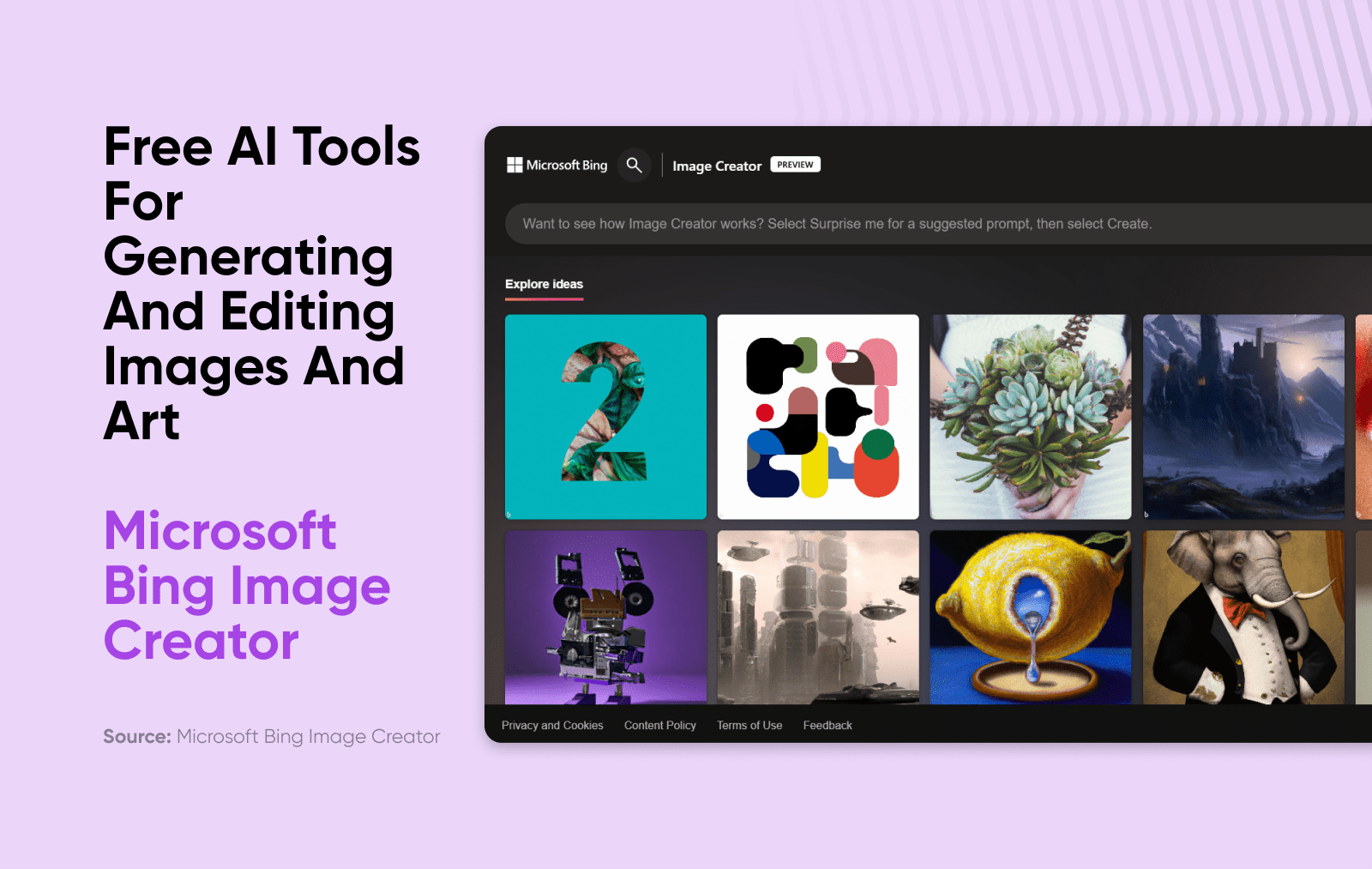 While there are tons of AI art generators to choose from, Microsoft's Bing Image Creator is a pretty reliable one, especially considering it's free to use. It's powered by OpenAI's DALL-E model, one of the most powerful AI image generators out there, and with 100 free image generations per day, it should meet most users' needs without needing to upgrade to a paid plan.
Since Midjourney stopped offering a free plan earlier this year, Blue Willow has emerged as a pretty similar alternative. Like Midjourney, you can integrate it with Discord, enter your prompts, and generate images. It also uses a combination of AI models, including Stable Diffusion, one of the best and most well-known.
Blue Willow offers free users up to 10 prompts per day. If you need more than that, there are paid plans available. It's more affordable than many other AI art tools, starting at just $5 per month.
While most AI image and art generators create their outputs based on text prompts, Scribble Diffusion, an open-source project from Replicate, takes a different approach. With this tool, you sketch your image idea, and the tool turns it into an image. The best part is that the sketches can be extremely basic: you just provide a short description to ensure the tool interprets your drawing the way you want it to.
Sometimes, all you need to do to perfect an image is remove one object from it. That's all Magic Eraser does – but it does it so well. You simply upload your image, highlight the object you want removed, and the AI erases it and fills in the background based on how it interprets the rest of the image. Say goodbye to photobombers, blemishes, shadows, and anything else that creeps, unwanted, into your perfect shot.
Free AI Tools For Generating And Editing Video
Are you ready to feel like you're in the future? How about AI tools that can edit or even create video content entirely from scratch? (Yes, it's as mind-blowing as it sounds.)
If you want to create or edit your video content without a full suite of professional video editing software, check out these AI video tools.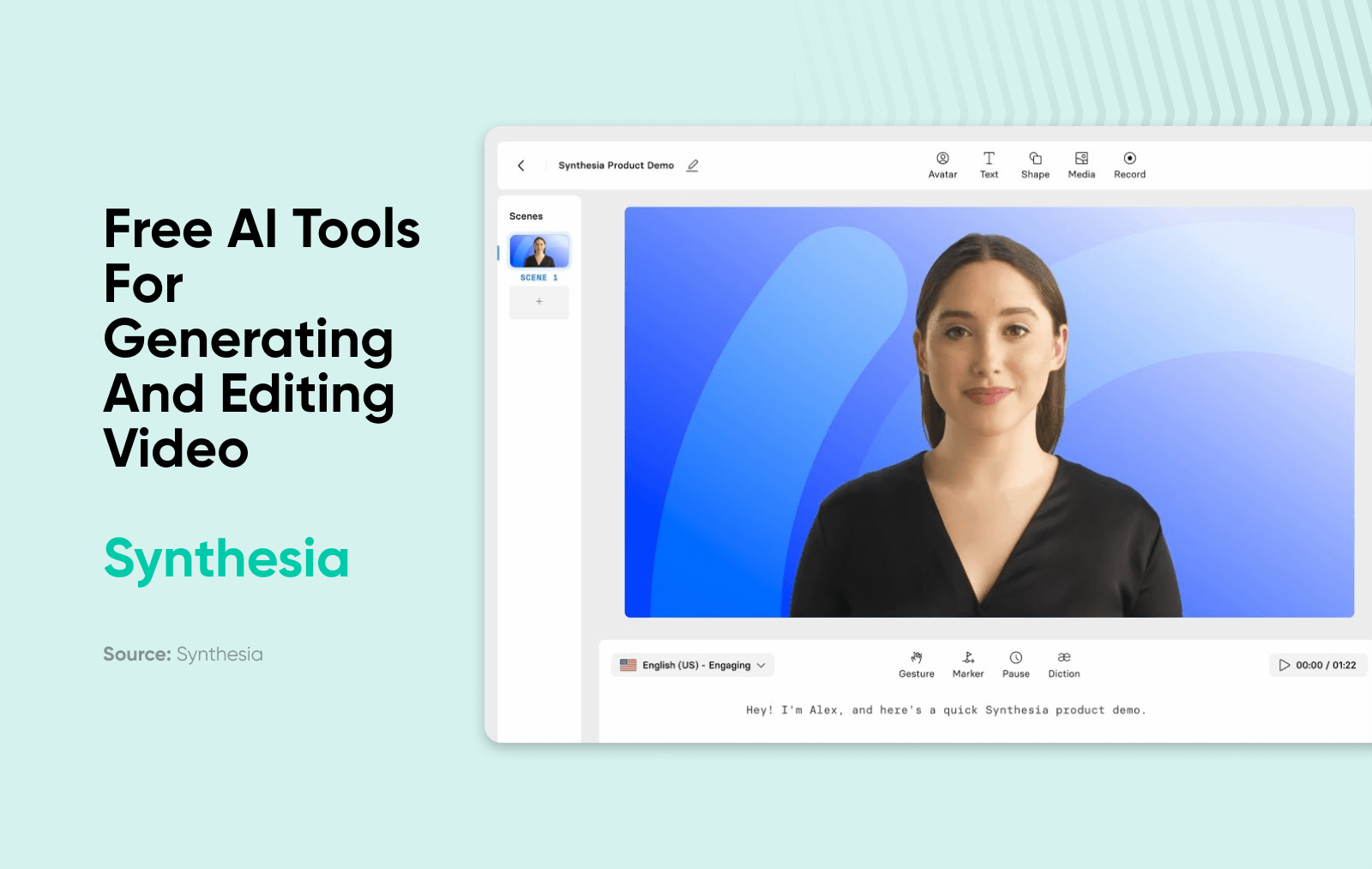 There's a reason Synthesia is one of the top AI video generators out there. It's so advanced and easy to use that it's almost hard to believe a tool like this exists.
With Synthesia, you can create a video with a human-like presenter in just seconds. All you do is choose your video template, pick an AI-generated avatar (there are more than 125 to choose from, all based on real actors), and input your script. The avatars can speak in more than 120 languages, which makes Synthesia a great choice for businesses that need to localize their content in other countries or regions. And your video is ready in as little as 15 minutes – no budget for talent or a studio required.
You can try Synthesia for free, but to unlock all its features and create full videos, you'll need a paid plan. They start at $22.50 per month.
One of the hardest things about making videos is editing videos. Luckily, this AI video editor from Microsoft makes it a breeze. Just point and click to edit clips, add graphics, insert text to speech, resize videos, and more. The user interface is simple to learn and navigate, even for beginners, making ClipChamp a powerful tool for anyone who needs to make videos, without a video production budget.
Descript is another easy-to-use video editor with a super handy feature for content creators: It transcribes your video into text, and then you can edit it by making changes to the text, rather than cutting and splicing video clips.
Descript also automatically generates captions for your videos, even offering a huge library of fonts you can use to make your video stand out.
Lumen5 is one of the most powerful AI video tools available right now, letting you turn your blog posts, white papers, and other written content into video content. All you have to do is paste a link to your written content into the provided field, enter a few other details (if you want), and let Lumen5 do the rest of the work.
You can use a template to guide the tool toward the type of video you want or let it decide. There's just one downside: Lumen5's free plan has limited features. To unlock this tool's full capabilities, you'll need to upgrade – pricing for paid plans starts at $49 per month.
For decades, animated videos have been one of the hardest and most cost-prohibitive types of content to create. But not anymore, thanks to AI! Powtoon is a super user-friendly online tool for creating animated video presentations, either from pre-designed templates or from scratch. Users don't need any technical knowledge to create their animations, and the videos are great for educators, marketers, business presentations, and many other use cases.
Free AI Music And Sound Generators
Anyone can be a musician with AI!
While the record labels may not love to hear this (or maybe they do), there's another category of AI tools that can create or edit almost any type of sound and audio you can imagine. Whether you're looking to edit your latest podcast episode or you want to create a sound-alike bot that has your voice but can speak Swahili, you can probably do it with one of these AI audio tools.
Just, you know, be careful with the DeepFake stuff.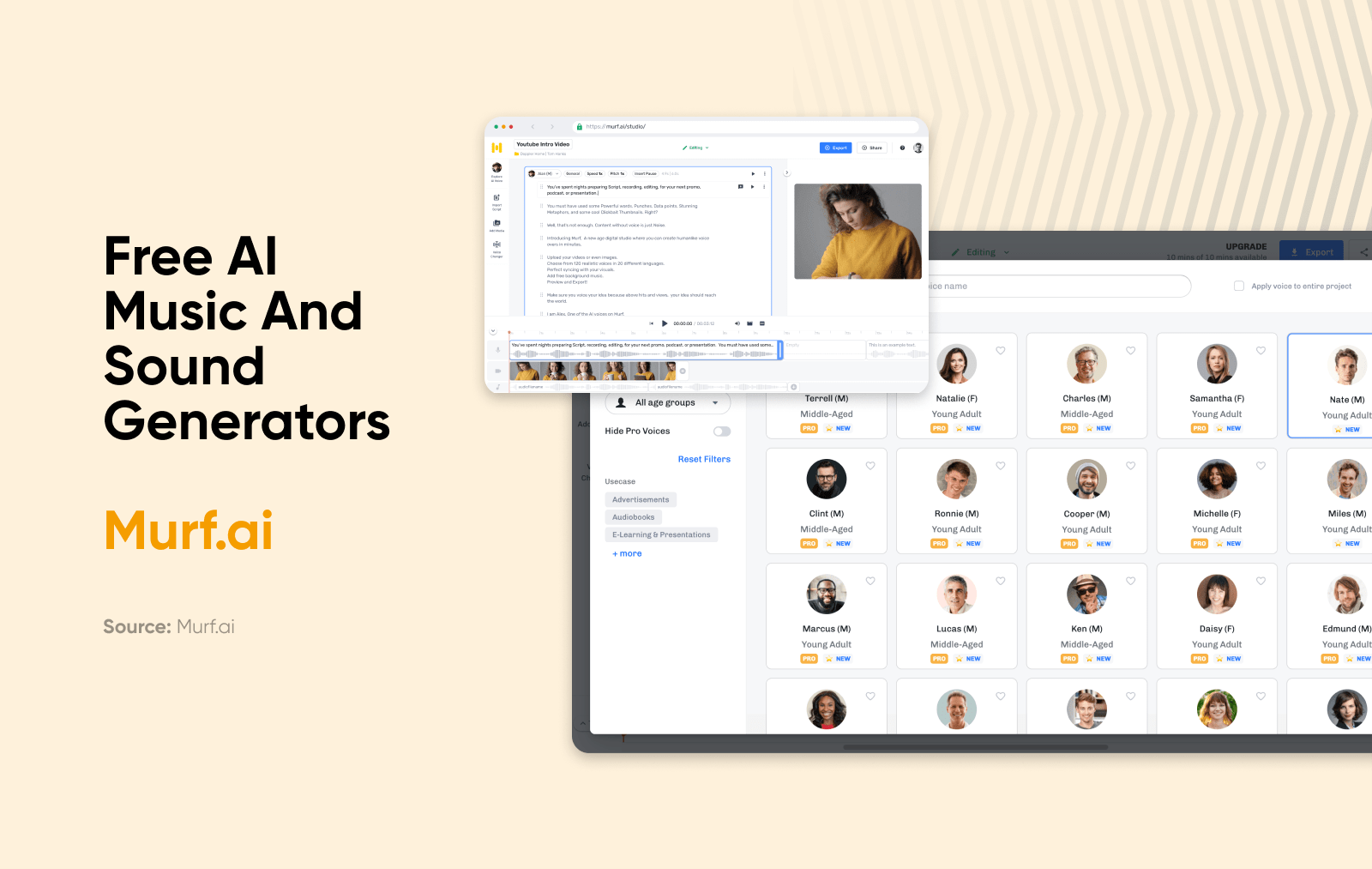 When you need a voiceover – for an ad, an audiobook, or even a podcast – Murf.ai can generate it. This AI tool was trained on millions of voices and audio samples, and allows users to generate high-quality voice clips while customizing the intonation, pitch, pause, speed, tone, and other qualities of the AI voice.
Murf.ai's free plan allows you to try all its voices and features, but if you want to download any of your clips, you'll need to upgrade to a paid plan. Those start at $19 per user per month.
FakeYou is another site that can generate AI voiceovers from text – but with the fun added feature of being able to make your output sound like almost anyone you can name. From past presidents to celebrities to cartoon characters, FakeYou can imitate them.
When you need to extract just one specific sound from a video or audio file, Lalal.ai is the tool for you. Lalal.ai uses machine learning algorithms to isolate and extract specific parts of the audio without losing any of the quality. You can separate a song into instrumental and vocal parts, or remove all background noise from a recording of a speech or presentation.
Lalal.ai is free for your first 10 minutes of audio. After that, premium licenses start at $15.
Free AI Research Tools
What good is AI if you can't make it do the hard stuff for you?
These free AI research tools will help you find, review, and understand just about anything that's been published online. They can help you find quotes or statistics and save you a ton of time digging through countless blog posts and news articles on the internet.
It's like having your very own research assistant on standby. And you don't even have to pay them.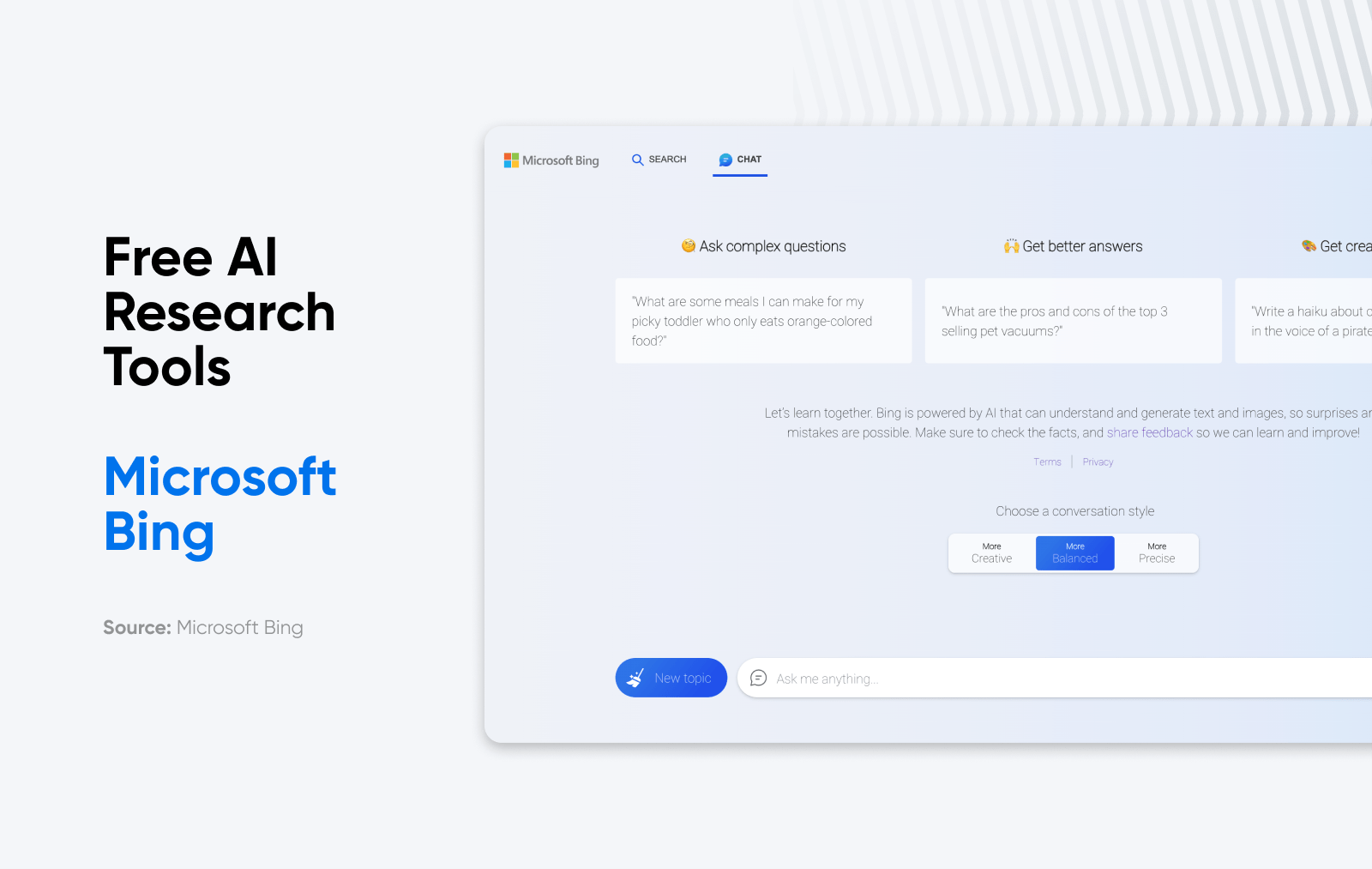 We've known Microsoft Bing for years as a search engine, but now Microsoft has integrated it with AI features that power web, video, image, and map search, plus real-time chat and image creation capabilities. The result is a search engine, but next level. Bing can find the information you're looking for on the web faster, smarter, and with better context. And it's completely free.
When you're researching, all that reading can really slow you down. That's where Summari comes in. This AI tool does all the reading for you, and then provides you with neat, skimmable, AI-powered summaries of all your materials.
Summari has been trained on thousands of texts written by humans, so it knows what information is important: the intro, concise headings, and key information presented in bullet points. You can even use Summari as a Chrome extension or an integration for Slack or Teams.
Keep all your research organized and in one accessible workspace with Iris.ai. You can upload all your documents, and then the AI tool automatically searches for links and connections, creates datasets, filters and extracts data, and generates summaries to help you keep everything in order.
Iris.ai is free to sign up and does have a free plan with limited features. To unlock its full capabilities, though, you'll need to go premium, which starts at $80 per month.
Free AI Business Tools
Beyond writing words or creating images, these free AI business tools help you do all kinds of things that make it easier to do your job or run your company. Things like AI-powered workflows, planning, and even business coaching are all possible with this list.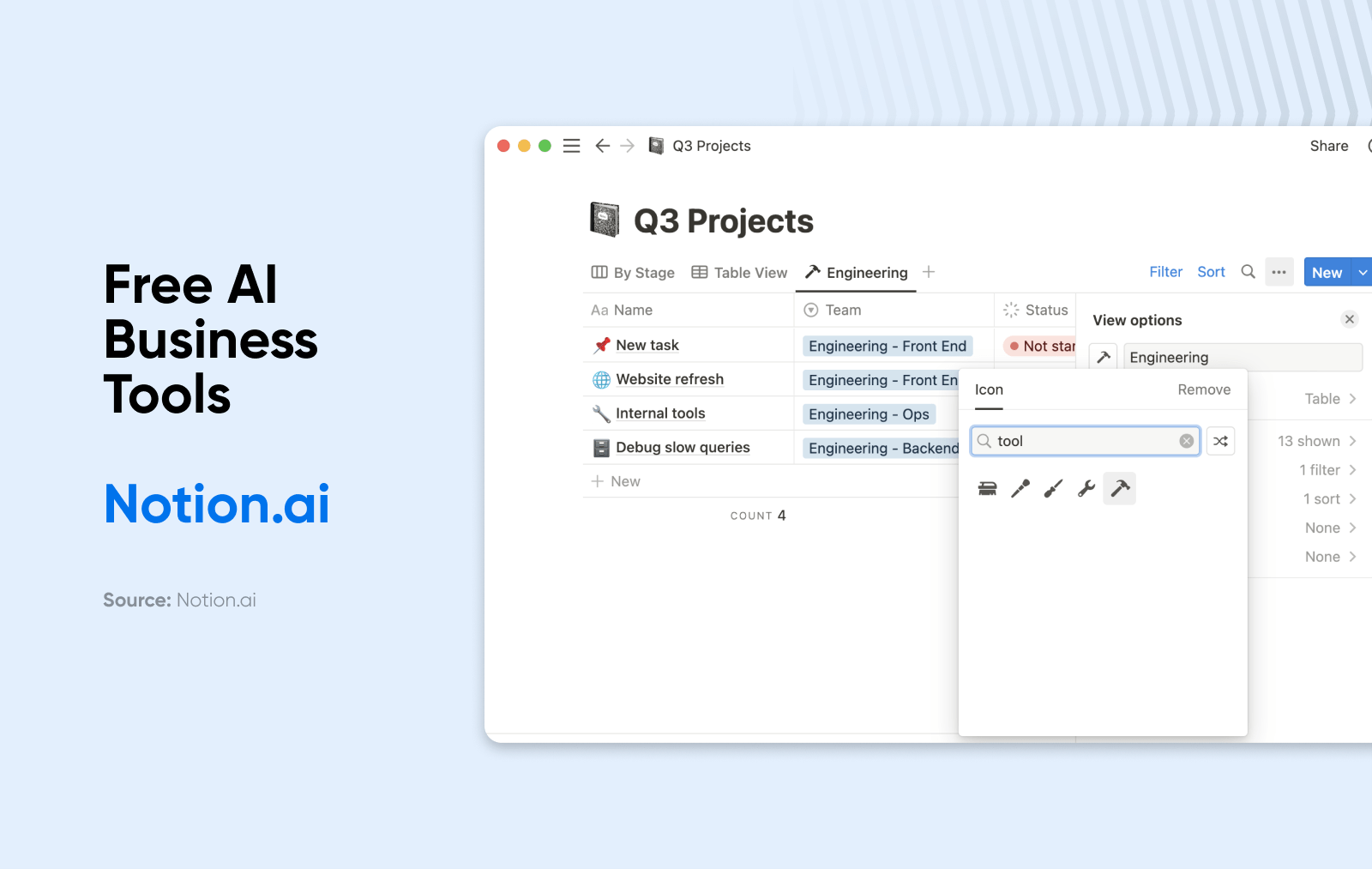 Notion.ai might be technically a writing tool, but it's built within Notion, the endlessly customizable workspace and knowledge management tool businesses have loved for years. Notion's new AI capabilities make it easier to write both external and internal content – just think of how easy it'll be to document your company's processes and workflows with an AI assist.
Fingerprint for Success is harnessing the power of AI in a unique way: as a personal and business coach, to help people achieve their goals. It uses conversational AI technology to help users build their skills in areas like resourcefulness, emotional intelligence, creativity, adaptability, and more. All plans come with a free trial, and a basic individual plan is free forever (though premium plans with more features are also available).
If your goal is to rank better in search, you'll want to check out Frase. This AI-powered tool actually helps you do several different SEO-related tasks: research topics and keywords, analyze competitor content, and write content that's optimized based on the top 20 ranking articles for your focus keyword.
Frase isn't entirely free, but it costs only $1 to unlock a trial, so it may as well be. After the trial period, plans start at $14.99 per month.
For anyone who needs a website but doesn't have coding skills (or the budget to hire a web developer), CodeWP is a powerful AI tool that can help you generate WordPress code to create and extend WordPress sites, templates, and plugins. It also includes pre-made and vetted code snippets for common tasks.
DreamHost Glossary
WordPress
WordPress is an open-source Content Management System (CMS). Since it is free and accessible, WordPress is used to power almost any type of website, from blogs to e-commerce businesses.
Read More
Adzooma is the AI-powered marketing platform for small businesses looking to maximize their marketing budgets. It simplifies and optimizes your marketing campaigns across multiple channels, making you more efficient in every way. Adzooma connects to your Search and Social ad platforms, then pulls in data and uses AI to recommend and launch new campaigns that will have the maximum impact and ROAS.
Adzooma offers its Essentials plan for free, which has plenty of features to get most marketers off the ground. When you need more features, its upgraded plans start at $99 per month.
Free AI Tools For Students (And Teachers)
Let's start with an obvious disclaimer: Don't cheat.
There's a heck of a lot of ways that students can use AI without breaking the rules.
Here's a list of tools for students and teachers who want to ensure students aren't using ChatGPT to write their essays on Shakespeare.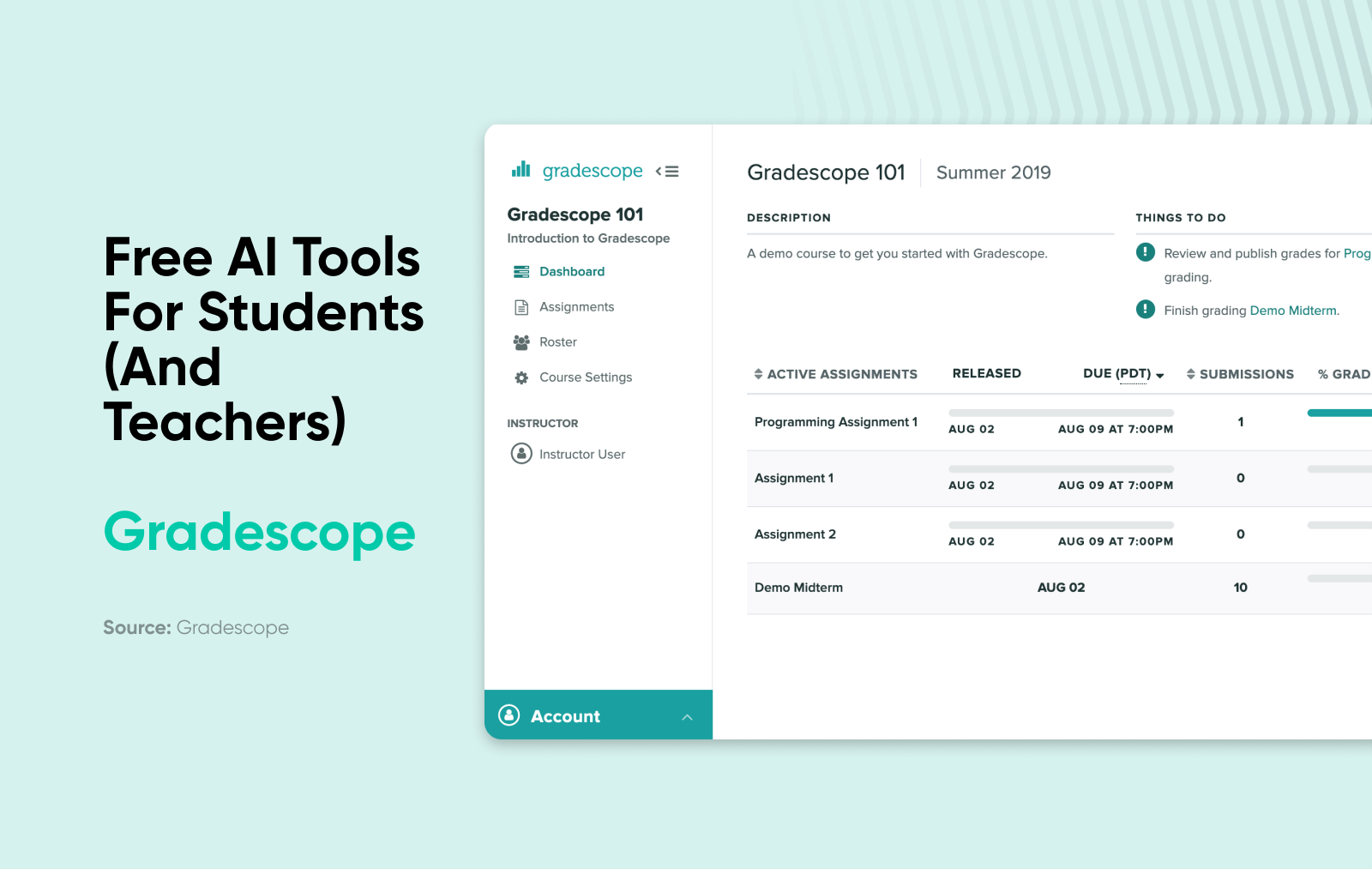 Wondering how you'll score on a big assignment – before you turn it in? Gradescope can help. It uses AI to grade class assignments in different subjects, giving students a chance to make sure their work is as high-quality as possible before the due date. You can upload digital or scanned, paper-based assignments. Gradescope has several pricing plans available, but all teachers get their first two terms free.
With the rise of AI text generators, plagiarism is a big concern in schools. GPTZero can help – it's one of the most accurate tools for detecting AI-generated text. It's even able to tell if something was written partially by a human, and partially by AI. The free version allows you to check up to 5,000 words, but you can upgrade to get up to 50,000 at a time.
Everyone gets stuck on their homework sometimes, which is why Google made Socratic, an AI tool that offers visual help with homework in all subjects, from math to science to English and more. All you have to do is take a photo of your homework, and Socratic becomes an instant tutor, guiding you through how to solve the problems. As an added bonus, it's pretty fun to use.
Free AI Tools For Fun
While there's a ton of talk and focus on using AI to "boost productivity" or "increase profits," how about using AI to just…have fun?
The final tools in our list are dedicated to folks who want to find ways that AI can help them enjoy themselves, enjoy their hobbies, or even find something new to pass the time.
Enjoy!
Gone are the days of trying to remember what movie or show that line is from. Head to Yarn and type in a quote, and it will instantly bring up the movie or TV clip you're looking for.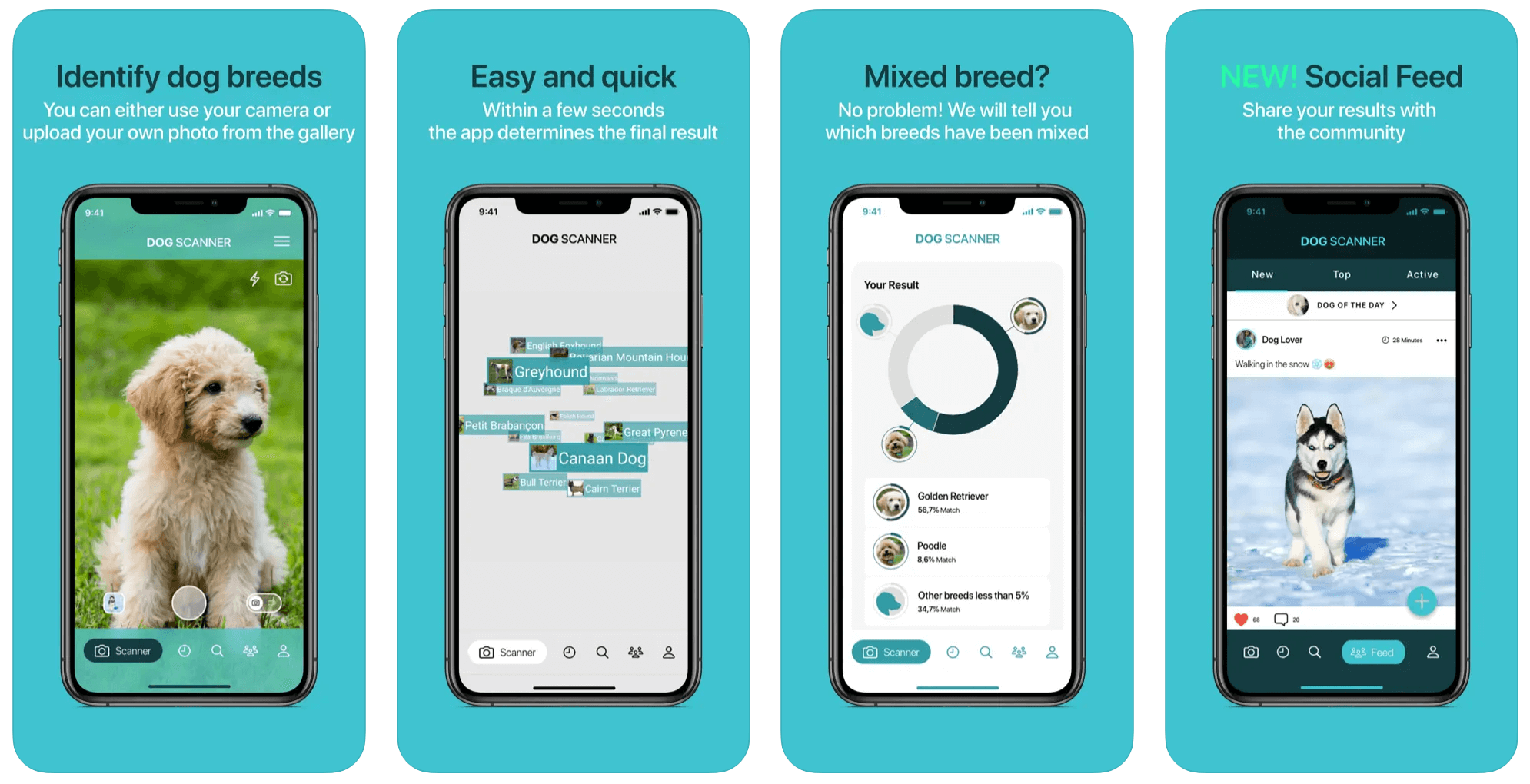 If you're the kind of person who stops and pets every dog you pass on the street, this app is for you. Upload a photo of any dog to the Dog Scanner app, and its AI will tell you the breed. You can even upload photos of yourself and your friends to see which dog breed the AI model thinks you most closely resemble. Now all us cat people are just waiting for our version of the app.
Become the meme lord of your friend group with Supermeme.ai, a tool that takes any text input and turns it into the perfect meme for the occasion. This is the app you never knew you needed, but once you download it, you won't be able to go without it. Trust me, I know from experience.
Get Content Delivered Straight to Your Inbox
Subscribe to our blog and receive great content just like this delivered straight to your inbox.