How Much Does a Graphic Designer Make?
As a graphic designer, you create meaningful and purposeful visual compositions. However, before learning graphic design, you'd perhaps like to know how lucrative the career is. Knowing how much a graphic designer makes can help you decide whether or not to invest the time and energy into pursuing a full-time design career (or even part-time side hustle).
Although a graphic designer's salary can vary, you can expect to earn $53,920 to $94,129 per year on average, based on location and experience. However, you might be happy to know you can increase your salary potential significantly by learning new software, gaining more experience, and moving to a higher-paying location. We'll dig into all of these factors below, so keep scrolling!
In this post, we'll introduce you to graphic design and the job requirements for becoming a graphic designer. Then, we'll explain how much you can make in this career. Ready? Let's get started!
An Introduction to a Career in Graphic Design
According to the U.S. Bureau of Labor Statistics, graphic designers are responsible for "developing visual concepts." This definition might sound vague, but it's because graphic design can cover many responsibilities.
As the name suggests, graphic designers create graphics. These can be physical or digital visual designs and illustrations that fulfill a specific need. Whenever you look at a billboard or product label, it was likely created by a graphic designer.
Depending on the client, you can have various graphic design projects. One common task is making logos for brands and small businesses. With the right design details, you can convey the client's brand and message:
Graphic designers also select the colors, typography, images, and layout for websites. They often design visuals for social media posts and advertisements as well: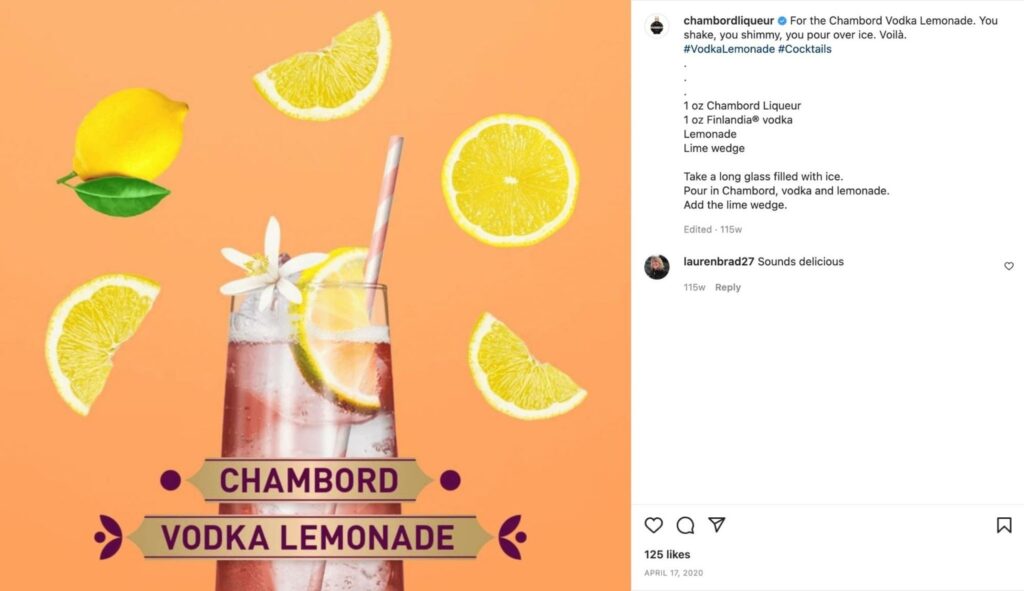 Since graphic designers have multiple responsibilities, they are involved in many industries. Here are some of the top sectors for graphic design:
Web design
Online and offline publications
Although you might work on some visual aspects of web design, you likely won't have to implement code. You'll usually work alongside a web developer familiar with front end or back end development.
If you want to become a graphic designer, there are many routes you can take. Whether you work for companies or freelance, you can find clients needing visual design services. As your career progresses, you may even end up in different industries than expected.
Job Requirements for a Graphic Designer
Before you launch a career in graphic design, it's essential to know the skillset you'll need in this career. Generally, graphic designers are familiar with software like Adobe Photoshop. This is a standard tool in the graphic design industry that you can use for any type of image editing: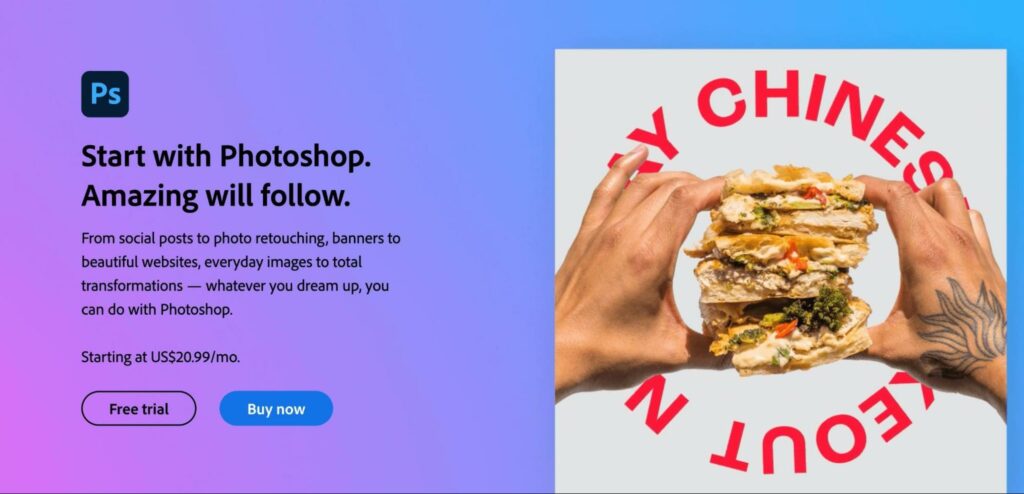 InDesign is another popular graphic design software. You can use this desktop publishing application to create everything from posters to magazines: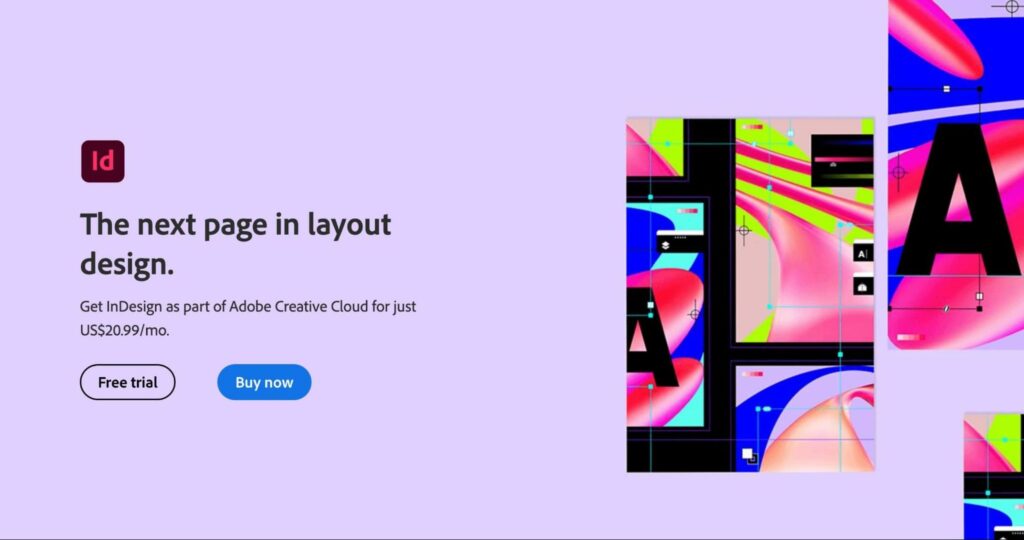 Here are some additional software applications that graphic designers often use:
Learning about common UX practices is also a good idea if you're planning on working in web design. It can also help to learn some basic programming languages to implement your visual ideas more effectively.
Furthermore, almost anyone can learn how to use design technology. Therefore, it can also be beneficial to have certain soft skills. If you are a creative and organized problem-solver, you'll likely have what it takes to make engaging visual elements. You'll probably work with a team of people, so you should also be communicative.
Most graphic designers earn an associate's or bachelor's degree in graphic design. Here's what you can learn in these programs:
However, you might not need a degree in graphic design. You can easily find job opportunities if you have relevant experience, a strong portfolio, and a familiarity with design software.
How Much Does a Graphic Designer Make?
Graphic designer salaries can vary based on several factors. However, the U.S. Bureau of Labor Statistics reports that the mean annual wage for this career was $59,970 in 2021.
This data was collected from 204,040 graphic designers, excluding self-employed individuals. Of these professionals, the lowest percentile made $31,310 per year, while the highest earned $98,260.
According to Indeed, the average graphic designer salary in the United States is $58,965 annually or $21.86 per hour. The most common benefits of this career include a 401(k), health insurance, opportunities for advancement, and remote work:

On Glassdoor, there is a similar annual salary. For graphic designers, the base pay starts at $52,012 per year. With added cash bonuses and other benefits, the average graphic design salary is $94,158: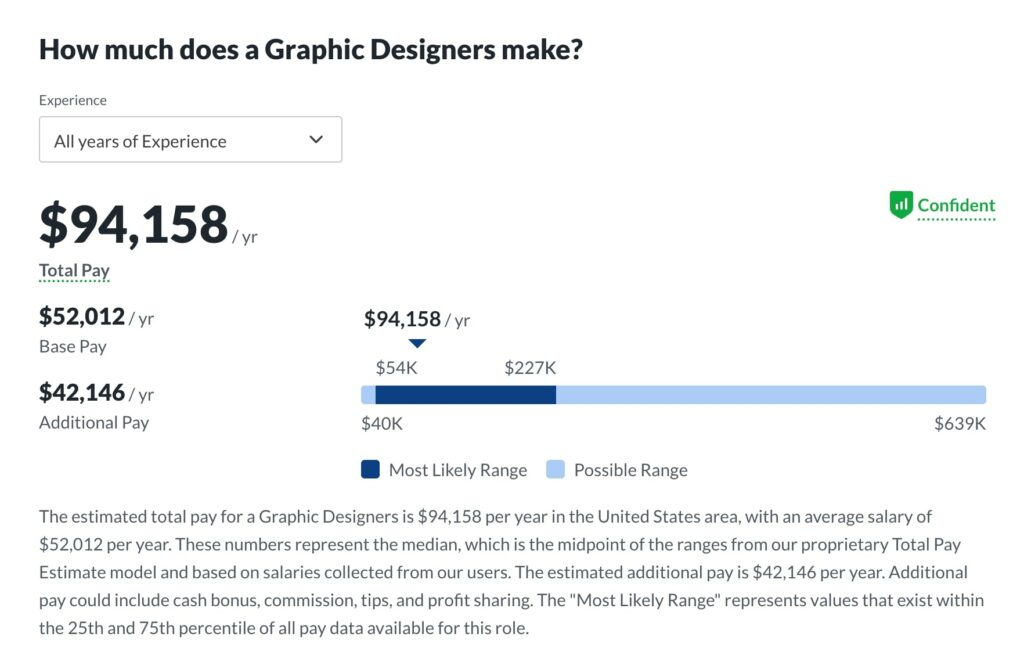 As you can see, it can be challenging to pinpoint the exact amount you'll make as a graphic designer. Depending on your experience level and location, your income can be higher or lower than the national average.
How Experience Level Affects Graphic Design Salaries
If you have years of experience in graphic design, your salary can increase significantly. Like other jobs, employers will likely reward you for having extended knowledge in your field.
With more than ten years of experience, Indeed estimates you could make $69,404 annually. With only one or two years, this amount drops to $51,194. If you've been working less than one year, Indeed lists a salary of $48,815.
However, Salary.com lists a higher income for entry-level graphic designers. Without any work experience, the national average is $56,501 per year: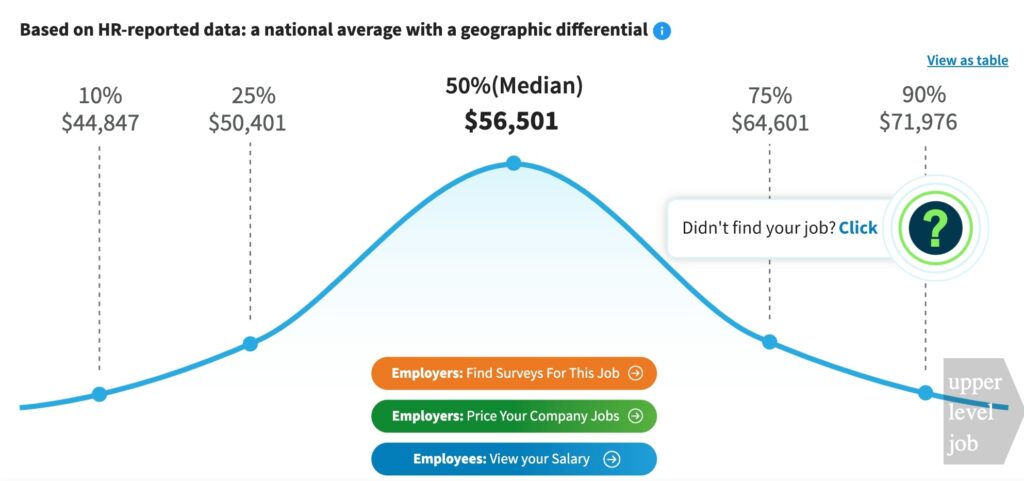 For an experienced position, this average increases by around $23k. According to Salary.com, senior graphic designers can expect to make an average salary of $79,602: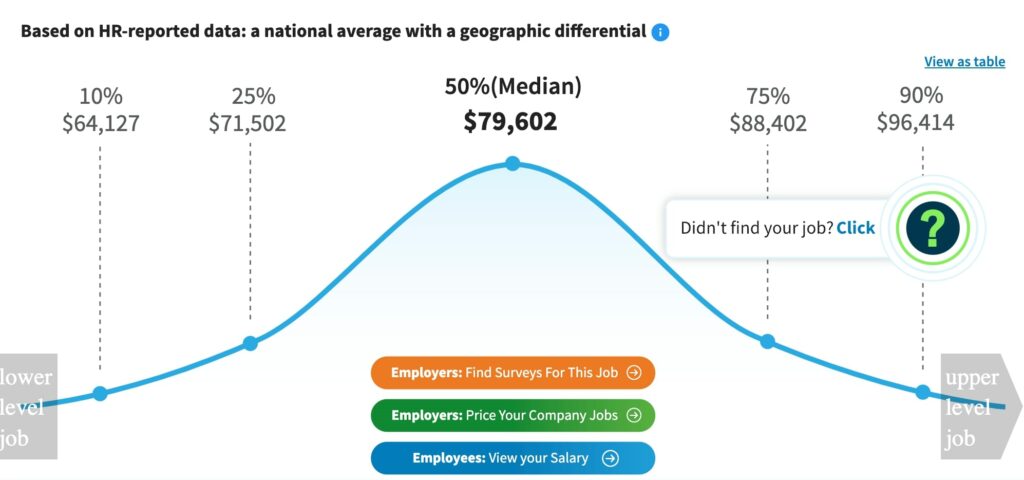 You'll likely earn more as you become better acquainted with graphic design. Like any other job, your income should increase over the years.
How Location Affects Graphic Design Salaries
In the United States, graphic design salaries can vary based on your state. Using this graph of the annual mean wage from the US Bureau of Labor Statistics, you can see if you're living in a higher-paying location: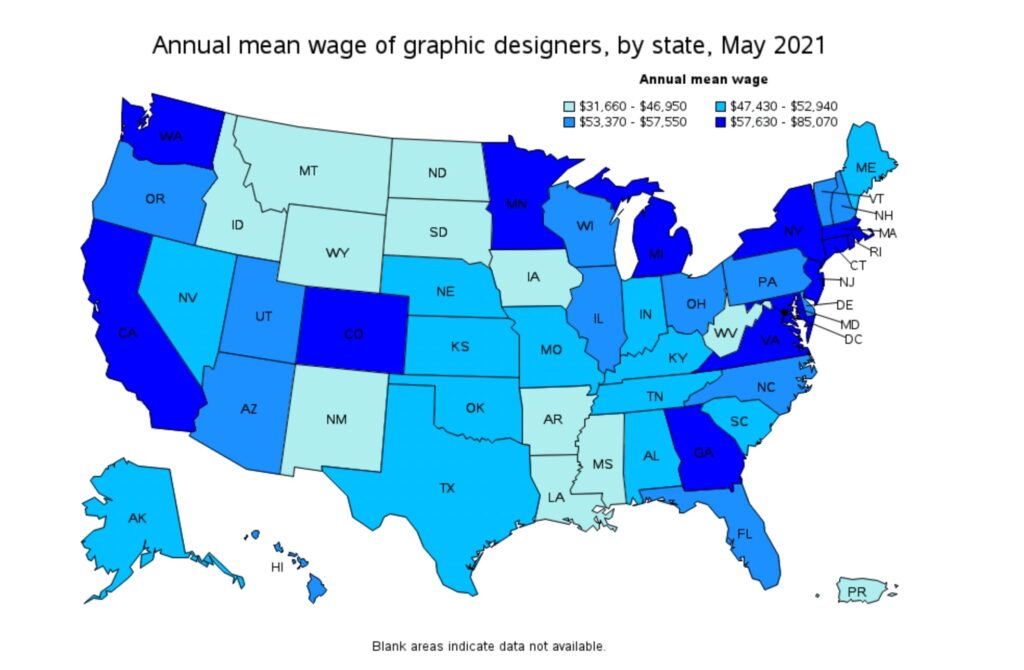 Some top-paying areas for graphic designers include Washington, D.C., Washington state, New York, and Massachusetts. These locations have an average annual mean wage of over $70k.
You might also consider moving to a top-paying metropolitan area to make more as a graphic designer. The San Jose – Sunnyvale – Santa Clara area pays an average annual salary of $85, 310: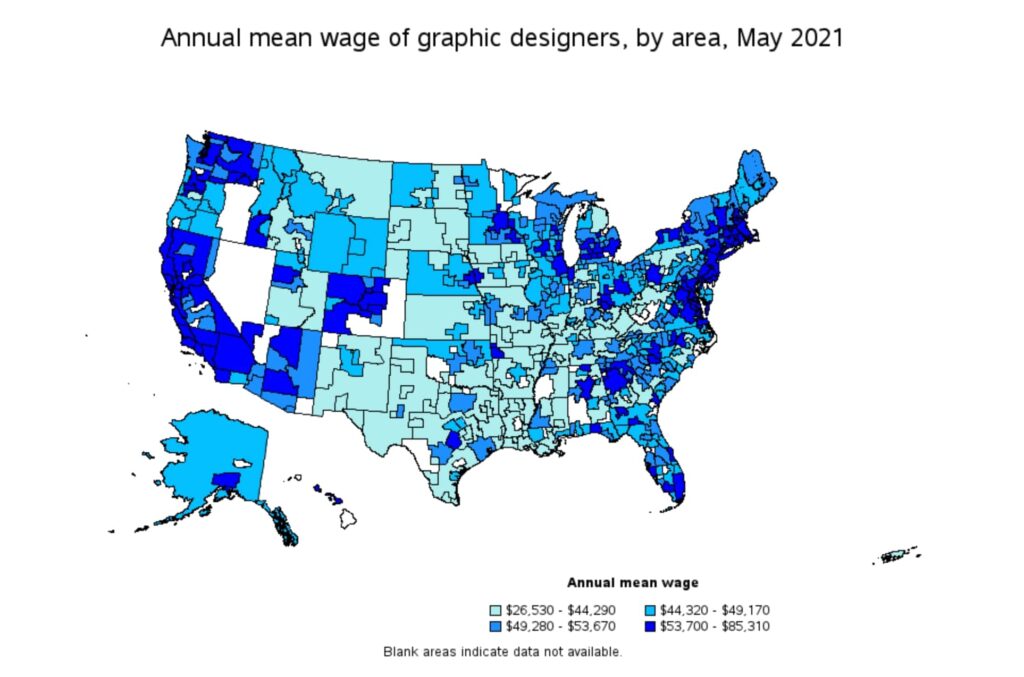 Indeed also lists some of the highest-paying cities in America. If you live in Los Angeles, Atlanta, or Portland, you'll likely make over $55k per year.
Ultimately, living in certain locations can lead to higher pay for a graphic designer. However, you'll also need to consider the cost of living to see if moving to a new area would be viable.
How to Increase Your Income as a Graphic Designer
Don't be discouraged if you're unhappy with your current graphic design salary. There are many ways you can increase your income and receive fair compensation for your work.
For example, you can consider applying for a job in a different industry. Some of the top-paying industries for graphic design are Monetary Authorities-Central Bank, Software Publishers, and Natural Gas Distribution. These can all pay upwards of $90k per year.
Additionally, you can gain a higher level of education. Often, having a four-year degree or design certification can increase your income.
If you don't want to pay for college, you can spend time expanding your skillset. For graphic design, knowing how to use Sketch, Cinema 4D, and InVision can increase your salary by over 27%.
It can also be helpful to create a portfolio to showcase your previous work. Displaying your design projects can be more engaging than simply listing them in a resume: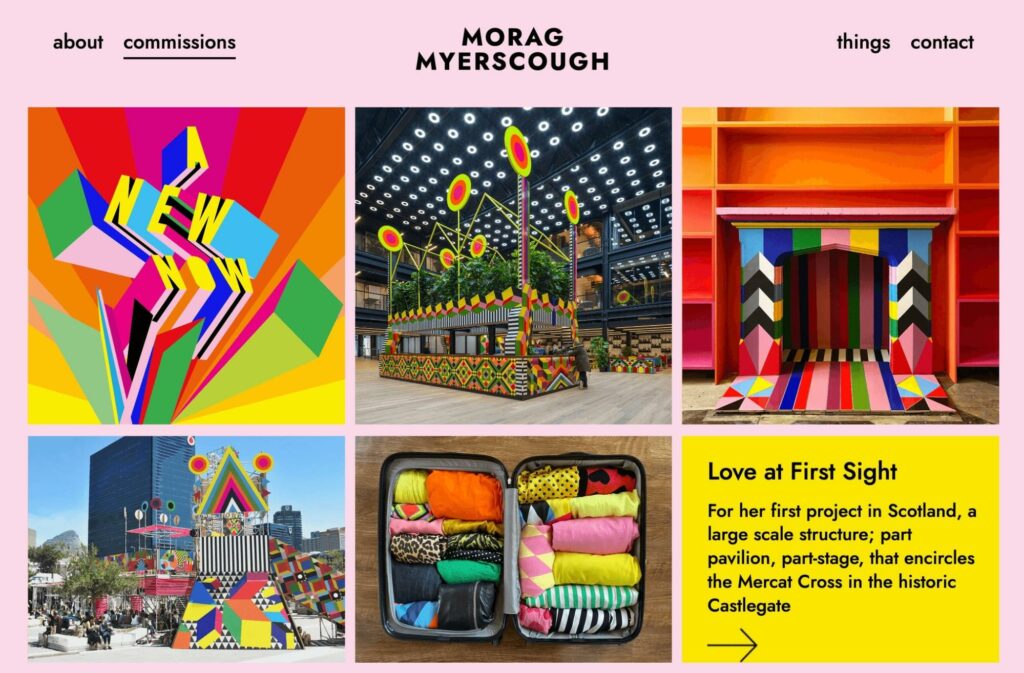 Finally, you can focus on a graphic design niche. This can help you find more specialized jobs with higher pay. Rather than applying for a range of jobs, you can gain years of experience in a specific area, such as marketing, print media, or motion graphics.
Monetize Your Graphic Design Skills
If you're a creative person with an eye for design, you might consider becoming a graphic designer. In this career, you work with publishers, agencies, and independent clients to optimize their branding, web design, advertising materials, and more.
If you live in the United States, you could start making around $55k as a graphic designer. However, your income can vary based on your state. Once you gain more experience, you can start applying for high-earning positions or earn salary increases.
Do you need help starting your own graphic design business? You can subscribe to our DreamHost blog to learn how to build a professional website, market your services, and grow your client base!
Get Content Delivered Straight to Your Inbox
Subscribe to our blog and receive great content just like this delivered straight to your inbox.