How To Start An Online Boutique (Your 11 Step Super Guide)
From first-time entrepreneurs to long-time side hustlers, starting an online boutique can be a profitable and satisfying endeavor.
As well as an intricate one.
In this comprehensive guide, we'll make the process of getting your online boutique up and running more approachable than ever before. We'll step through each and every task, from building a business plan to setting up your digital storefront.
By the end of this post, you should have all the information and confidence you need to start your own online boutique.
Why Open An Online Boutique Business?
Your brain might zip right to Amazon when you think about online shopping.
However, any website that offers specialized goods (and services, but we'll focus on the former today) on the internet is an online boutique.
So, you don't necessarily have to compete with Amazon. There's plenty of space for millions of sellers and niches.
More and more people are choosing to move or start their stores online to take advantage of the various benefits:
E-commerce Seeing Impressive Growth
In the first quarter of 2023, e-commerce sales accounted for 15% of all sales in the U.S.
Where all retail categories grew by 3.4% from the first quarter of 2022 to the first quarter of 2023, e-commerce sales in particular, grew a good bit faster — 7.8% over the same timeframe.
If you're going to get into, or stay in, the retail game, trends indicate that an online store is likely going to be your most lucrative outlet.
Lower Startup Costs
Customer-facing staffing and training, expensive retail space rent, maintenance, loss, local marketing — there's a good bit of overhead associated with physical shops that you may not have to shell out with a digital one.
If you don't have a lot of cash or time to get your store off the ground, you'll likely find an online boutique has lower, more approachable startup costs.
Improved Reach Over Brick And Mortar
An online boutique isn't restricted to only selling to consumers who visit your shop in person. With an online presence, you can reach your target audience pretty much anywhere in the world.
Between this level of accessibility as well as the 24/7 nature of an online business, you should be able to reach more buyers and make more sales.
Passive Income, Anyone?
While it might not be possible right out of the gate, a fully-online store is a lot easier to develop into a passive income stream that makes money without any tending on your part.
Yes, you'll have to automate or outsource everything to do with fulfillment: managing inventory, packing and shipping, receiving returns, and customer support.
But that's a lot simpler to do with the right business structure and a digital storefront than it is to do in a brick-and-mortar space that requires a physical presence.
Get Content Delivered Straight to Your Inbox
Subscribe to our blog and receive great content just like this delivered straight to your inbox.
A Step-By-Step Guide To Starting A Successful Online Boutique‌
We're not saying that building or running an online boutique is going to be easy.
An online store requires a healthy amount of upfront work to set it up, and continuous work to keep it going successfully.
However, the investment can absolutely be worthwhile due to all the prospective upsides.
If you're ready to tackle the challenge, let's walk through everything you need to do to open your online store.
1. Identify Your Target Market
First and foremost, you shouldn't aim to cater to everyone while opening an online store, even a fashion boutique.
You could go bankrupt just trying.
This means the first step is figuring out your target market.
Your target market is your ideal customer. It's your niche. It's a unique piece of the population that aligns with your marketing and desires what you sell.
To find your target market, think about what you want to sell. Keep quality, margins, and customer lifetime value in mind here. It's much easier to make a profit on items that can be sold at a higher price or sold over and over again to the same customers. It's a known fact in the retail space that selling to existing customers is easier and more affordable than having to win over new customers all the time.
We personally think it's also important that you feel connected to your offerings in some way. Is there something you're passionate about making or sourcing? Is there a hobby you can monetize? Have you come up with a solution for a particular community you're a part of? When you're a part of or have a deeper understanding of your target market, it's a lot easier for you to stock the things they want to see.
And that's exactly what you should be doing once you have your target market locked in. Use this information to guide what products you offer in your store and how you choose to market to your audience.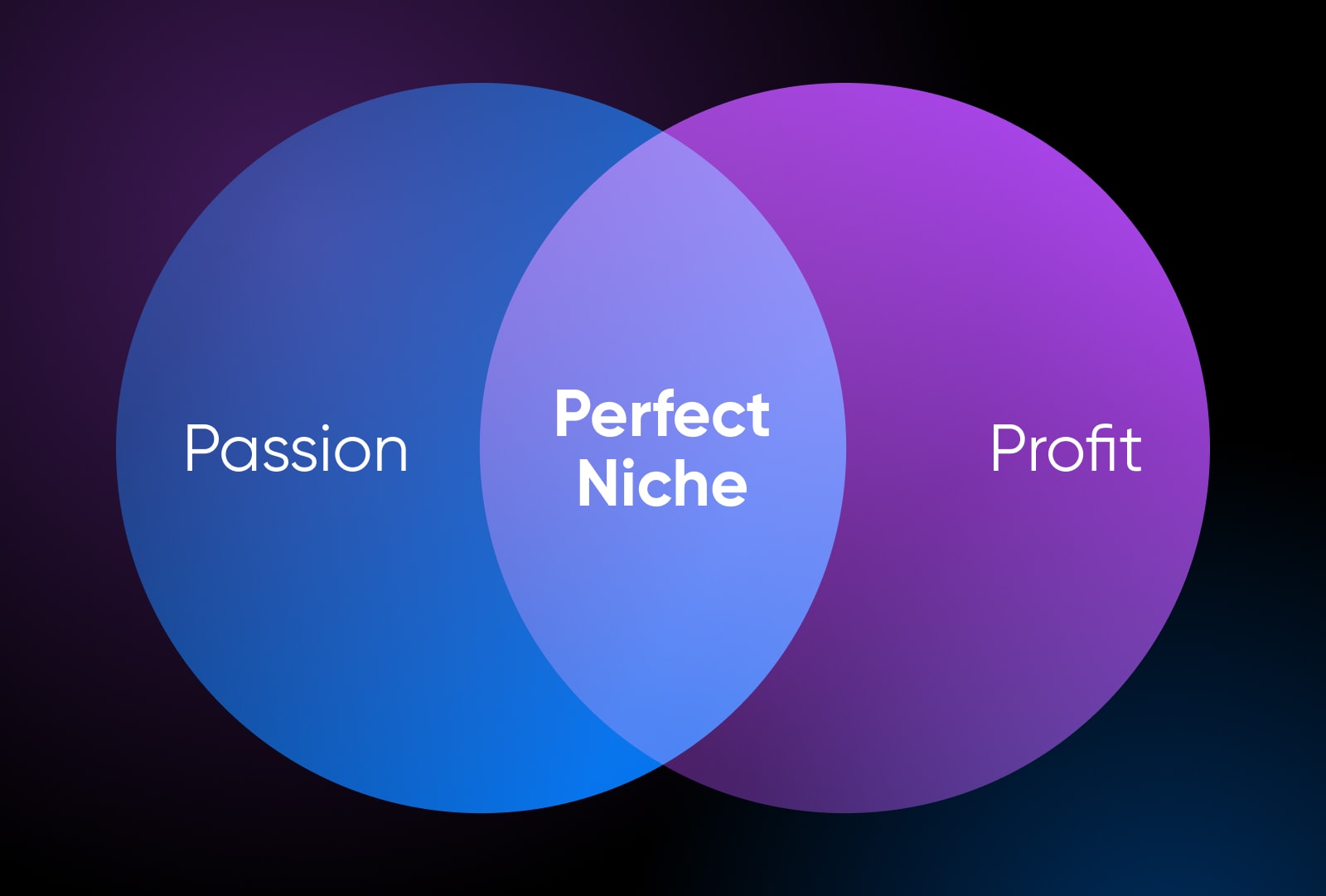 2. Define Your Business Model
Simply put, a business model outlines the basics of how you're going to generate revenue. In the case of retail, it's all about defining how you're going to source and sell product.
You can use one or more of the following models to get products for your online boutique:
Handmaking: This model of course revolves around making, selling, and shipping out the goods you sell.
Reselling: Reselling is the process in which you purchase goods from other companies, typically wholesale suppliers, to then sell them in your shop for a markup. This is the most popular retail model.
Manufacturing: You can also go straight to the source and work with a manufacturer who will create your goods, as designed by you, from raw or semi-assembled materials. They typically send finished products to your warehouse for you to sell and distribute. This is very common in the retail space, especially for brands who want to add a custom touch to their products.
Dropshipping: In this model, you don't actually have inventory. You facilitate the order, but another company with the goods ships them out. While your business will probably handle marketing, support, and refund conversations — returns usually go back to the dropshipper. This method is becoming more popular as globalization makes the supply chain accessible to small business owners.
Create On Demand: This is another no-inventory model where goods are manufactured and shipped to the customer right when they're ordered. It's similar to dropshipping but the products can typically be more personalized.
3. Build A Business Plan
Now, you can build a business plan that will help you pin down your strategy for opening your boutique, guide your actions as you grow, and even seek investment.
Based on the traditional business plan format from the U.S. Small Business Administration, here are some key elements to include:
Summary: Quickly sum up the core of your business: What does it sell? Who's behind it? Why do you think it's going to be successful? What's your mission statement?
This section is your "elevator pitch" and is mostly critical if you plan to use your business plan to acquire funding or partners.
Full Description: Time to expand on the summary above. Here, you mostly want to focus on what will make your business stand out in the large retail space. Think about the desires your product meets or issues it solves. For whom? What makes you competitive? Is it your pricing, expertise, or selection? What's your business model, and who will be running each element of it?
Reading the description should enable people to imagine what your business looks like and does – even before they've seen anything you've executed.
Market Research: Drill down on where your product fits into the market. Who's in your niche, and who are you competing with? What makes you different, and what makes you the best option for your target audience?
Product(s): Next up, create a thorough description of the goods you plan to sell and the model you plan to use. For anything you're crafting yourself, what legal measures have you taken to protect your intellectual property, such as filing a patent, etc.?
Marketing & Sales Processes: As for marketing, how will you attract clients? With what channels? What's your time and monetary budget?
In addition, detail how sales will work. What's the actual flow for a customer to make a purchase and your business to fulfill it? Support? Returns? All of these details will help you flesh out the next part: the financial plan.
Finances: How is the current cash flow? What are you projecting for the future, and how will you get there? This is important information for your planning and budgeting purposes, but it will also be pivotal for anyone who wants to invest in you.
If you intend to make funding requests, get even more detailed by including income declarations, current balance sheets, cash flow statements, information on credit and collateral, growth projections, etc.
(Optional) Funding: Funding part of your business? Lay out your needs, what you plan to use that money for, and the returns investors can expect. There are different kinds of funding, so you can also tailor this section to the option you desire — private individual investments, bank loans, venture capital backing, line of credit, purchase order financing, etc.
4. Select Your Name
If you've been following along, you've done a lot of hard work!
Let's dive into something that isn't any less important but might be a bit more fun.
At this point, you likely have some kind of name you've been using to refer to your business. Time to make it official.
Here are some things to keep in mind when solidifying your business name:
It should be easy enough for your target market to read, spell, and pronounce.
When possible, use a shop name that relates to the products you sell to make it more memorable.
Your name shouldn't be taken on your primary social channels.
You don't want to have a similar name to your competitors.
The domain for your name should be available (more on actually setting up a domain later.)
If you plan to trademark your name, use the Trademark Electronic Search System to make sure it's not already taken.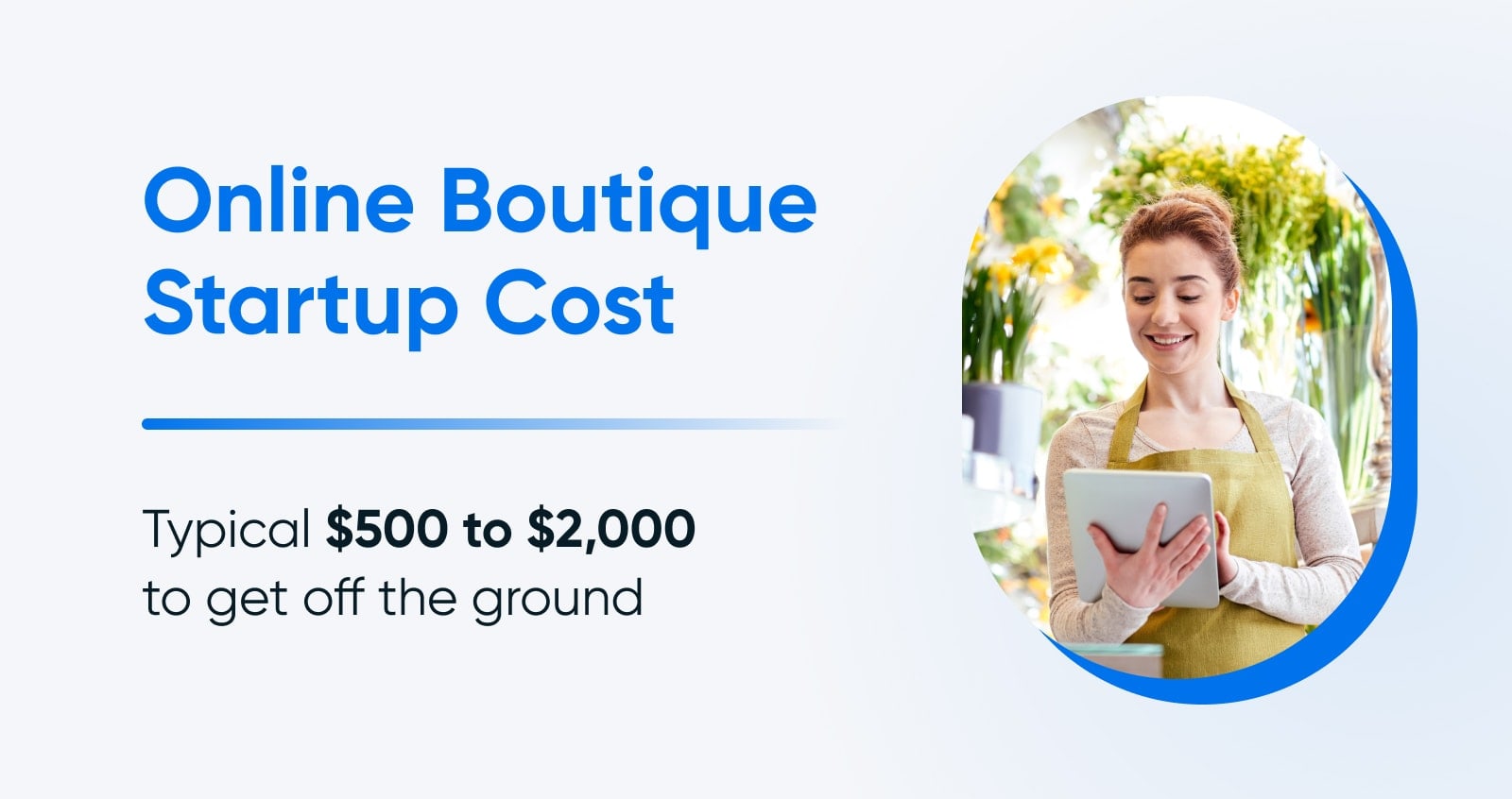 5. Take Care Of The Legalities
Now, let's take all the steps to make sure your online boutique is legit and above board.
Note: Nothing here is meant to be construed as legal advice and applies to businesses operating within the United States.
Set Up An LLC 
You don't have to set up a limited liability company (LLC), but many small business owners do for tax advantages and personal liability protection.
You'll usually need some kind of recognized business entity to work with larger vendors, so we recommend you go ahead and do this now if you're going to do it at all.
Thankfully, it's pretty easy to get an LLC set up online. LegalZoom is a popular resource, and their guide on how to start an LLC will take you through the whole process.
Secure An EIN 
An Employer Identification Number (EIN), aka Federal Tax Identification Number, is what the IRS uses to identify your business at tax time.
Applying for an EIN (which you can do online through the IRS) isn't required for businesses, but some banks require it before opening a business account.
Using an EIN instead of your personal information and social security number on business documents will also help protect that sensitive info from identity theft.
Register With Your State
Federally and in many states, you won't have to register the name of a retail boutique. However, it can be helpful to protect your business idea and name from being taken (trademarking is what protects you from this at a federal level). You may also need to register your business in your state to acquire the right licensing.
If you wish to register your business, use your favorite search engine to look up something like "register my business in [my state]" and look for government resources to get you started.
Business Licensing/Permitting
You will almost certainly need some kind of license or permit, at least at the state level, if you are operating a business — whether it be online or offline.
This is because states tend to handle their own regulation of certain industries, such as construction, farming, restaurants, and of course retail. However, if the industry you operate within is federally regulated (if you sell alcohol, for example), you'll also need to look into federal licenses and permits.
The tough thing here is that requirements, steps, and fees for setting up business licenses and permits vary considerably based on your location, what you sell, and even your revenue. Generally speaking, state-level business licenses cost between $50 and $400, may have a processing fee, and need to be renewed yearly.
To get started, search a phrase like "business license [my town]" to see if your local government requires any license or permitting. Then, work your way outward from there (county, state, federal).
If you're feeling overwhelmed by all this, remember that licensing for an online boutique should be on the simple side, at least. There are also in-person and remote small business lawyers who can guide you.
Sales Tax License/Permit
States with sales tax, which is most of them, require a sales tax license or permit. This documentation is what enables the business to make taxable sales and collect sales tax on behalf of the state.
Whether you need a sales tax license and which locations you need it for as an online business depends on your state's regulations.
You should come across details for sales tax licensing in the course of your business license research. You can also Google "sales tax license [my state]."
Business Bank Account
With your business just about all set up legally, you'll want a dedicated bank account.
You can choose any bank you like, we just recommend shopping around for the best service and products alongside reasonable fees.
Business Insurance
The requirements and expectations for business insurance in your state — say it with us — will vary greatly.
However, many established ecommerce businesses choose standard general liability insurance, which covers bodily injury claims; property damage claims; and claims of copyright infringement, libel, and slander.
Trademark 
Want to safeguard your business's unique name, logo, and brand elements? Trademark it.
You can apply for a trademark online. Be warned, these applications can take a while to go through. As of this writing, applications from fall 2022 are being processed.
6. Flesh Out Your Branding
Strong branding is essential for any company, but especially those in the competitive and somewhat crowded retail space.
Branding your online boutique is important because it can attract potential customers within your target audience to your business – Plus, it will help them remember you and keep coming back for more.
What goes into a brand?
Everything that shapes how consumers perceive you, such as:
Your name and slogan or mission statement
Your logo
Your color palette
Your website design
Packaging design
Your brand voice, including any unique language
DreamHost Glossary
Brand Guide
A brand guide is a manual that details a company's visual identity and explains specific rules for representing the brand correctly in public-facing communications. Brand guides are used internally and externally by partners, media, and agencies.
Read More
As your business expands and even changes with the market, you'll likely find that you need to update it to keep up with the times. And change is fine! What matters is that whatever updates you make remain on brand and are made consistently across every platform, from your products and packaging to your website, social media presence, and beyond.
To maintain that consistency, we recommend storing all your assets and notes on fonts, colors, etc in a singular brand guide.
Not sure where to get started with branding? This is a great time to employ a designer, or strike out on your own with a platform like Canva that has all the templates and organizational features a small business owner needs to get started.
7. Develop Your Online Presence
Once your business name is official and your branding ready to roll, you can finally secure your digital presence across the internet.
We recommend starting with your domain name.
A domain name is your website's address. For example, at the site you're on, dreamhost.com is the domain name.
Domain names have to be unique, just like addresses. Typically, you want it to be the same as, or very similar to, your business name.
Once you've found a domain name that's available — check here — you can buy it through a domain registrar. Later, you'll attach this domain to your online boutique's website so it shows up when people put your domain name in their internet search bar.
DreamHost Glossary
Domain Registrar
A domain registrar is an organization that manages domain registration for Top-Level Domain (TLD) registries. Registrars provide registration services and sell domain names to registrants.
Read More
Then, secure your social handles on all the various channels where you want to have a social presence (ideally, the ones where your audience is already present.) Sign up for new accounts under a handle that is, again, the same as or super close to your business and domain name.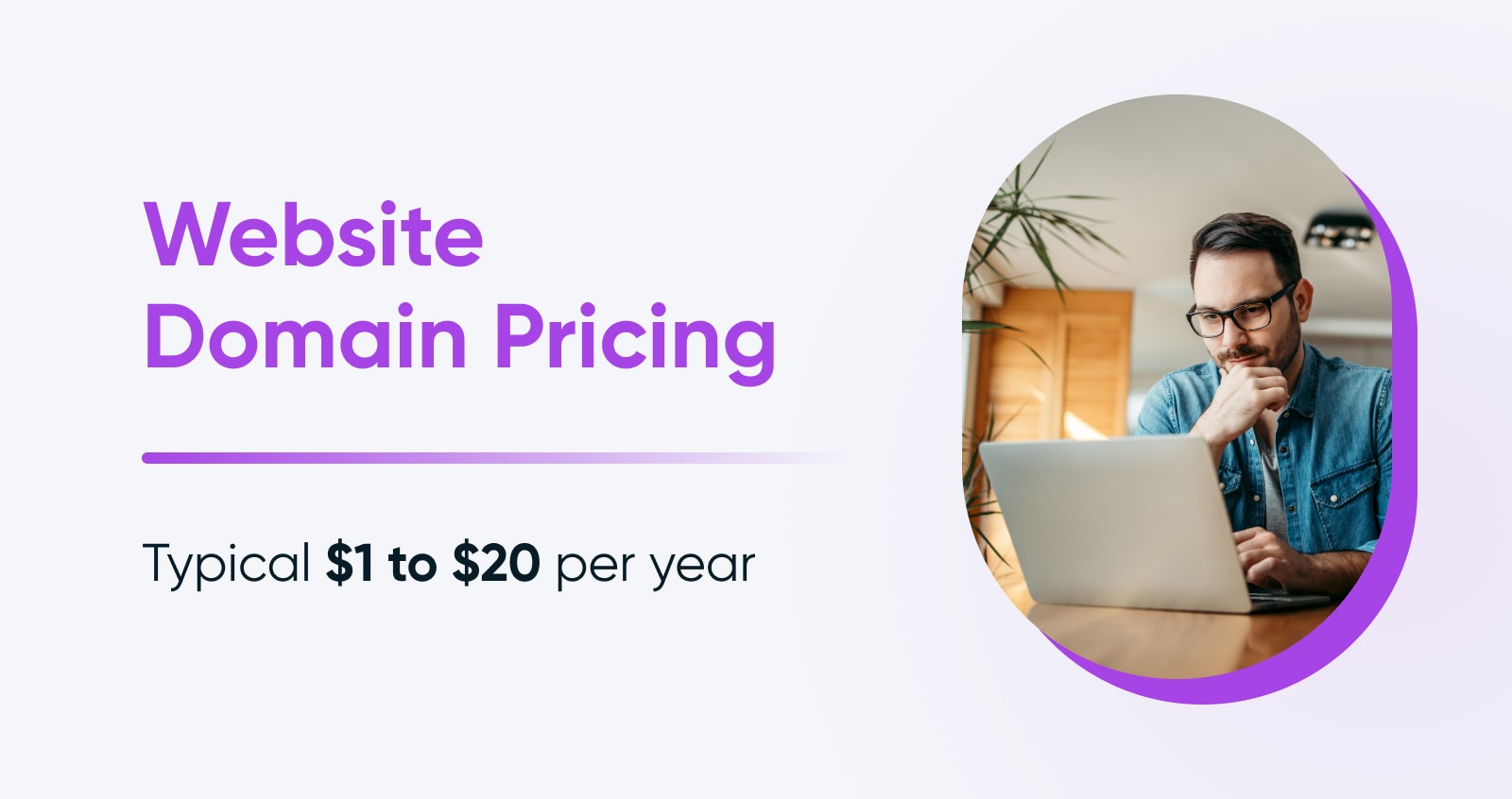 8. Source Products & Supplies
If you plan to sell already-made products in your new business, it's time to find vendors or dropshipping/create-on-demand providers.
Even if you're partially assembling or making all your products from scratch, you'll need to find suppliers for your raw materials.
There are a few elements we recommend paying attention to when starting to build your supply chain:
Compatibility 
You'll (hopefully) be interacting with many of your suppliers regularly. That's why it's important to get to know them a bit before signing any ongoing agreements. You want to make sure you can get along with these businesses or individuals and trust them to be fair and accurate when discussing pricing and timelines.
Cost Vs. Quality 
Another thing to consider is making sure the quality of the products or materials you're sourcing lines up with your boutique's standards and customer expectations.
To get a real feel for this, request samples from potential providers. This is common practice and the good ones will be happy to oblige.
As you review sample products and materials, keep in mind that you should be finding high quality products without cutting too deep into your budget or ruining your ability to generate any profit.
Level Of Customer Support 
Especially when it comes to working with a partner in a dropshipping or create-on-demand business model, there's a level of customer support and ongoing communication you're going to need from their end.
To see what kind of support they're capable of and if it lines up with your needs, find out if a provider you're considering has a point of contact within their company who is assigned to your account and consistently and easily available to you.
Knowing how to vet a supplier is good and all — but how do you find them in the first place?
Connecting with other online boutique owners and going to trade shows are two of the best ways to actually meet vendors who already have a good reputation. You can also seek out online reviews from businesses that are already selling in your space to start a list of suppliers who you can then learn more about on your own.
Courtesy of Forbes, some popular boutique product suppliers and marketplaces today include:
9. Set Up Your Online Store
Products solidified, it's time to take the biggest step yet: Getting them online and available to your audience!
We recommend spinning up your website on WordPress.org, which can be done in just five minutes.
This powerful, flexible, easy-to-use website builder software is free to download (paid web hosting required) and populate with your online store. Especially when used in conjunction with WooCommerce and specialized WooCommerce web hosting.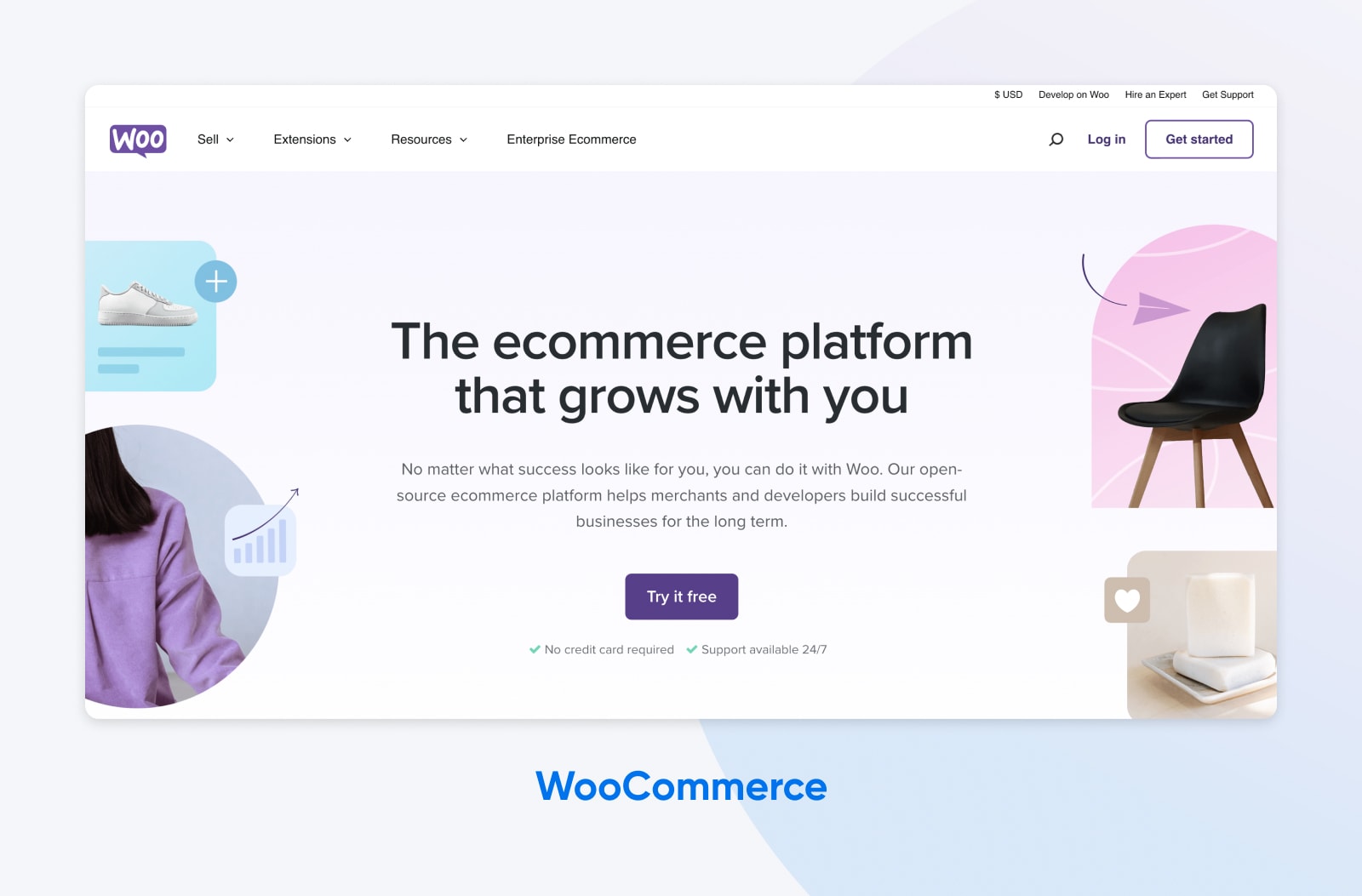 Where Shopify is an e-commerce platform, WooCommerce is a plugin. We like WooCommerce best because you still get to take advantage of all the features and functionality of your WordPress website, with the added bonus of a powerful online store plugin that's consistently updated for improvements and security boosts.
With WooCommerce, you get to design how your online store looks and feels, list any kinds of products (or services, subscriptions, etc.), offer highly secure payment options, ship printing labels from inside the platform, fully manage orders (even on mobile), and work with tons of integrations (such as accounting tools) that expand upon the features of the platform even further.
Getting started with WooCommerce is simple:
Go to your WordPress admin dashboard
Navigate to Plugins > Add New
Search "WooCommerce"
Click Install Now
Click Activate
WooCommerce will appear in your sidebar
Navigate to WooCommerce > Home and walk through the setup process
For a much more thorough walkthrough on installation and configuration, check out our full guide on how to install WooCommerce on your WordPress website.
WooCommerce has different pricing models, but for online merchants they recommend Woo Express, which has a free trial and starts at $25/month when billed annually.
10. Fill Your E-commerce Website With New Products
Now to fill in all those important product details.
First off, we really recommend investing money in great photos of your products.
And right after that, investing time in crafting creative, specific descriptions. You may even want to do some search engine optimization (SEO) research to make sure you're including within descriptions the specific terms your ideal audience is looking for.
Product descriptions are also a good place to upsell or cross-sell other products in your store by showing how they pair together.
As for pricing, of course that's going to depend on so much — quality, demand, overhead, and other costs. But typically, in retail boutiques that specialize in clothing, accessories, and small gifts; keystone pricing is the norm.
Keystone pricing is the practice of selling an item for double what you paid for it wholesale. So a trinket you bought for $100 wholesale would be priced at $200 in your store.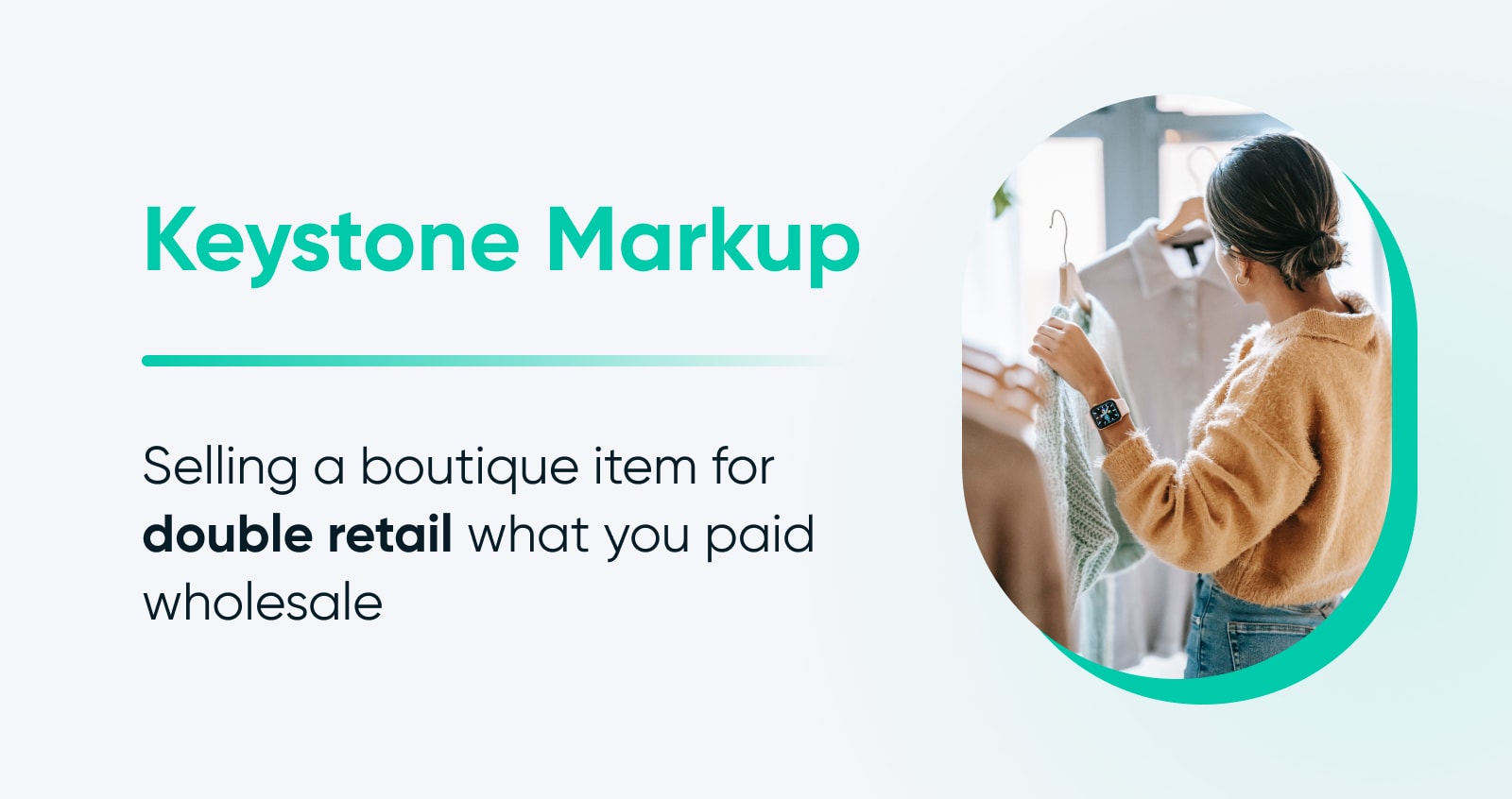 11. Start Attracting Buyers Via Marketing
Last but never least — it's finally time to get your online boutique out into the wider world and in front of your ideal shoppers.
That means marketing.
Email Marketing
Email is one of the most high-powered owned marketing channels. Meaning, it's one where you get to fully control the content as well as its distribution.
Create segmented email lists of folks who have made purchases or shown interest in other ways, such as added items to their wish list on your site. You can segment further by age of consumer, location, what types of products they're interested in, etc.
This way, you can send more personalized emails that truly add value for your audience, inspiring sales and retention.
Social 
First of all, it's completely OK to not use every single social media platform available!
We recommend engaging with just a handful of channels which your target market uses. This gives you time to focus on creating the right content and strategy to actually attract eyeballs and make conversions.
Secondarily, focus on social channels that have shopping features included — For example, Instagram Shopping. Your audience can seamlessly complete purchases with much less friction thanks to built-in shopping capabilities.
Content Marketing
Content marketing is a great supplement to more in-the-moment social media marketing.
Few Instagram and Facebook posts are going to inspire clicks and purchases once they're even just a few weeks old, but evergreen content can be served to search engine users to drive sales for years and years (with a few updates here and there, as needed).
Partnerships
Something that's unique about the retail space is how common it is to partner up with other brands, helping each other cross-sell by sharing each other's products in online stores, emails, and social media posts.
Just look for other boutiques with a similar audience to yours. For example, an online clothing boutique could partner up with a perfumery, an accessory seller, or even a specialty online chocolate shop during the holidays.
Influencer Marketing
In the age of TikTok, influencer marketing can be a great way to get your offerings in front of potential buyers.
An influencer marketing strategy is the process of paying online influencers to show and sell your products to their audience.
First, figure out where that audience is —  Instagram, YouTube, the aforementioned TikTok, etc. Then, find influencers with messaging and followers that align with your brand and start reaching out.
Start Your Online Boutique Today
It's probably clear by now that getting your online boutique up and running requires a fair bit of work.
But it can be very rewarding work when you know you're taking all the right steps to be successful.
When you're ready to set up the online store that's going to host it all and find yourself needing some support, turn to DreamHost's WooCommerce hosting and website design pro services to bring your boutique to life.
Your Store Deserves WooCommerce Hosting
Sell anything, anywhere, anytime on the world's biggest eCommerce platform.