Shared Hosting vs. Dedicated Hosting
If you're dazed and confused about which web hosting service is best for you, you've come to the right place! Given the wide range of options, even the tech-savviest clients may need help.
Let's start with the basics: shared hosting and dedicated hosting. Neither system is going to be right for everyone, so you'll need to identify your needs and do your homework. Fortunately, we're here to explore the different options and help you make an informed choice.
In this guide, we'll go through a full rundown of shared hosting vs. dedicated hosting. Let's get started!
Shared Web Hosting
With shared web hosting, one physical server is shared by several users who tap into the same resources. Everyone shares the cost of storage, bandwidth, and other features. Web neighbors can't access other accounts or websites, so the system is safe and secure: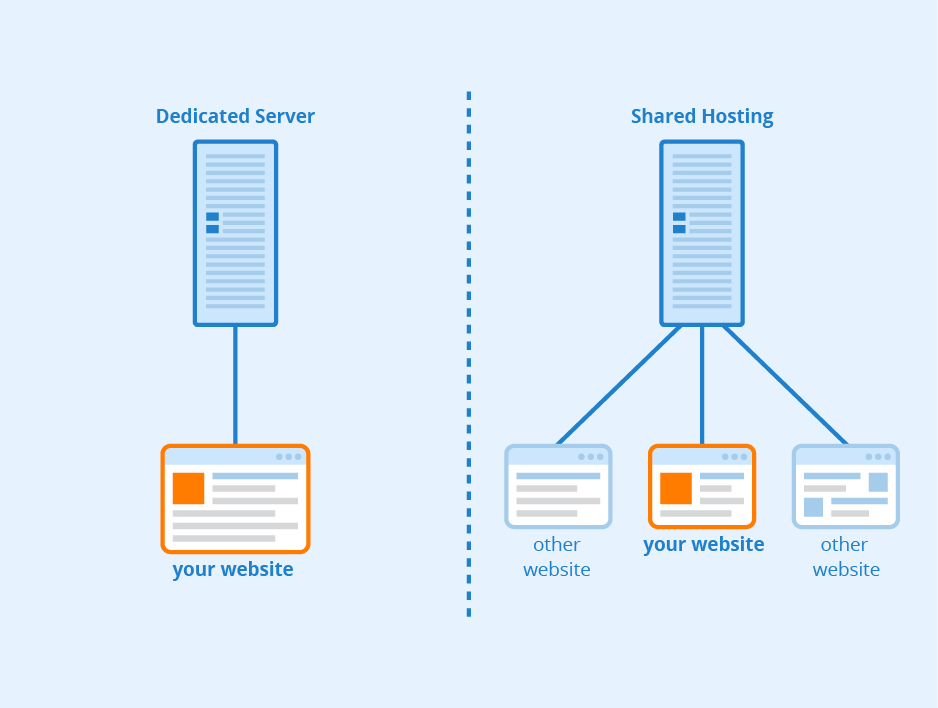 Credit: Seobility – License: CC BY-SA 4.0
Its cost-effectiveness and ease of use make shared web hosting a popular choice. Your web host will set up your server and install the necessary software.
All you have to do is upload your website or application. Using the simple control panel, you can create and manage your database, email account, and other tools for doing business.
Shared hosting may be an ideal solution if:
Your business is small to mid-sized.
Your traffic is limited to a few hundred monthly visitors.
The content on your website is frequently updated.
You have no earthly idea how to configure a server, install and upgrade its software or perform technical maintenance.
At DreamHost, we offer affordable shared hosting plans for WordPress sites. Plus, our plans come with a free domain name!
Why Choose Shared Hosting?
If you're new to web hosting, a shared platform is great for learning the ropes. It's perfectly adequate for businesses and websites with light to moderate web traffic which don't require complex customized server configurations.
You could think of it like a large house shared by several roommates. Expenses for things like food, cleaning supplies, and electricity are divided. If the fridge stops working, the kind landlord lives right next door. The arrangement saves everyone money, and things work out nicely, provided no one drinks directly from the milk carton.
Get Content Delivered Straight to Your Inbox
Subscribe to our blog and receive great content just like this delivered straight to your inbox.
Dedicated Web Hosting
With dedicated hosting, you're the sole user on the server. Its capacity and resources are all yours. This gives you much more control over its configuration and overall operating environment. There's also a wider variety of services and software to choose from.
Not every business needs all the bells and whistles that dedicated hosting provides. Still, it might make sense under the following circumstances:
Your business is continually growing and adding products or services, so you need the control and flexibility to customize the server, choose your software and adapt the system to changing needs.
Your website features a significant amount of video streaming and high-resolution photos.
You want a unique IP address that you don't have to share with other websites.
Your business handles extremely sensitive transactions, requiring enhanced security features.
If you're looking for a dedicated server, we offer fully-managed dedicated hosting. You'll have root access to your server, along with 24/7 monitoring and support to keep things running smoothly.
Why Choose Dedicated Hosting?
Understandably, having a dedicated server all to yourself costs more than shared hosting. After all, there are more features and resources to choose from. Unless you have excellent technical skills or strong tech support in your company, you'll probably need a package that includes building and maintaining the equipment.
These additional features come at a price, but they're worth it for clients who need complete control of the operating environment and a little extra security. Furthermore, dedicated hosting can be a better option if you have a high-traffic site that's continually growing.
Choose the Best Hosting Plan for Your Website
Shared hosting and dedicated hosting come with their own pros and cons. On the one hand, shared hosting is an affordable option that's perfectly suitable for small to medium businesses. You also won't need to worry about configuring your server.
By contrast, a dedicated server offers superior performance and gives you complete control over your server's configuration. It's an excellent option for larger businesses, high-traffic sites, and tech-savvy users.
At DreamHost, we offer both shared hosting and dedicated hosting plans. Contact us today to find out which service is right for your website!
Get DreamHost's Most Powerful Hosting
Our dedicated hosting plans are the ideal solution for high-traffic sites that require fast speeds and consistent uptime.