WordPress 6.4 Set for November 7, 2023 Release Date; New Functionalities, Improvements Under Consideration
The development cycle for WordPress 6.4 kicked off on June 5, 2023, with November 7, 2023, eyed as the release date for this latest version of the content management system.
WordPress users can expect an exciting slate of new features and upgrades — announced on August 22, 2023 — to roll out with the new release, including a new default theme, Twenty Twenty-Four.
Get Content Delivered Straight to Your Inbox
Subscribe to our blog and receive great content just like this delivered straight to your inbox.
New Release, New Theme
The driving concept of Twenty Twenty-Four is to create a universal theme that is adaptable for many types of websites, regardless of the subject matter. Unlike previous years, it doesn't focus on a single motif. Instead, the developers have decided to explore three distinct use cases: one suited for entrepreneurs and small businesses, another for photographers and artists, and a third one specifically designed for writers and bloggers. Essentially, it's an amalgamation of templates and patterns that together form a comprehensive theme. These patterns feature various Home templates for diverse use cases such as an About page, project summaries, RSVPs, and landing pages.
The design constituents of Twenty Twenty-Four are immediately distinguishable, drawing influence from current design movements. The theme employs the Cardo font, sourced from Google Fonts, for headlines, lending an air of sophistication, while it uses a sans-serif system font for paragraph text. The primary color scheme of Twenty Twenty-Four is on the lighter side, but it also offers a darker style option that keeps the same typography intact. Furthermore, it comes with two additional sans-serif variations: one in a light mode and another in a dark mode.
As a block theme, Twenty Twenty-Four will be fully aligned with all site editor tools and will introduce several new design instruments like the details block and vertical text. A significant goal of the theme is to effectively showcase complete page patterns and template variations. This feature eliminates the need for users to create whole pages from scratch, thereby simplifying their website-building experience.
Form and Functions
WordPress 6.4 narrows in on improving elements throughout the WordPress journey, from the intricacies of crafting a fresh post to overseeing patterns throughout your website. In the midst of these enhancements, the core WordPress development team is looking to introduce fresh attributes such as font customization and the Twenty Twenty-Four default theme while also addressing any missing aspects in existing features, like additional resources to expand on your designs.
Let's dive into some of the updates and functionalities you could expect in the pending release that's still under development.
Revisions for Templates and Template Parts
Expanding on the core development team's endeavor to incorporate revisions for Styles, the completion of revisions for templates and template parts will enhance the editing journey. This will provide the capability to retract any modifications made to your design, no matter where you've made them.
New Blocks
Three new blocks are currently under consideration for version 6.4.
Table of Contents block
Time to Read block
Scrolling Marquee block
Image Lightbox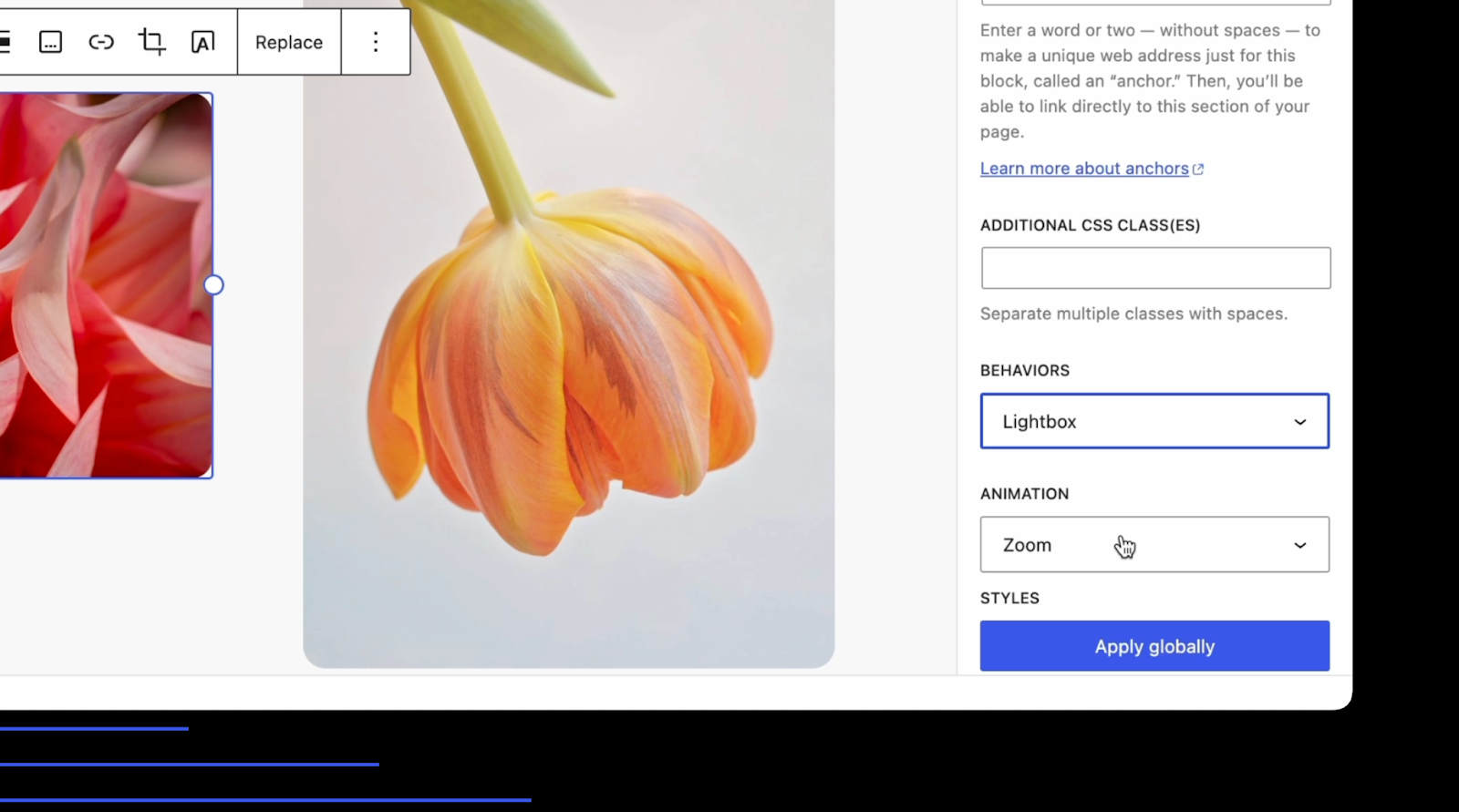 A WordPress native lightbox functionality, featuring a lightweight standardized JavaScript library, is being explored as an option to toggle on for individual image blocks to start.
Auto-Insert Blocks
In an ongoing quest to enhance user-friendly interactions, the developers are delving into the potential of auto-embedding a block into relevant sections. For example, if you've just installed a plugin and are tweaking your navigation, a prompt pops up offering to effortlessly integrate a login/logout option.
Post Formats in Block Themes
Since the introduction of WordPress 3.1, post formats have been a key feature, and even though block themes have worked with post formats, there are several improvements aimed at maximizing the use of post format. These enhancements include:
Managing posts without titles within the loop and templates.
Initiating a pattern in the process of creating a new post.
Enhancing the distinct formatting of the post content block within the query loop.
Making the Best Even Better
Just because a platform like WordPress is already the most popular and most widely used CMS in the world, that doesn't mean that top-notch features that were implemented in previous releases can't be made even more effective and useful. Let's look at what all is under consideration for some spiffing-up in WordPress 6.4.
Writing Experience
Crafting content in WordPress, be it a fresh blog post or a brand new page, ought to be a smooth and pleasurable process. The tools at your disposal should facilitate your artistic flow, not obstruct it. With its multitude of formats, design utilities, and alterations, blocks should instill in you a sense of confidence to shape your vision. This update is devoted to ensuring this experience continues to be the norm.
Interfaces and Tools
The tools available continue to be improved to make creating a site or writing a post more streamlined with the following focus areas:
List View iterations with custom naming of Group blocks, media previews for gallery and image blocks, the ability to resize, keyboard shortcut for duplicating blocks, and more.
Top Toolbar improvements, including resolving some keyboard navigation issues.
Distraction-free improvements.
Command Palette: Add new block commands, refine the design, add support for registering commands without icons, improve command palette rendering on smaller viewports.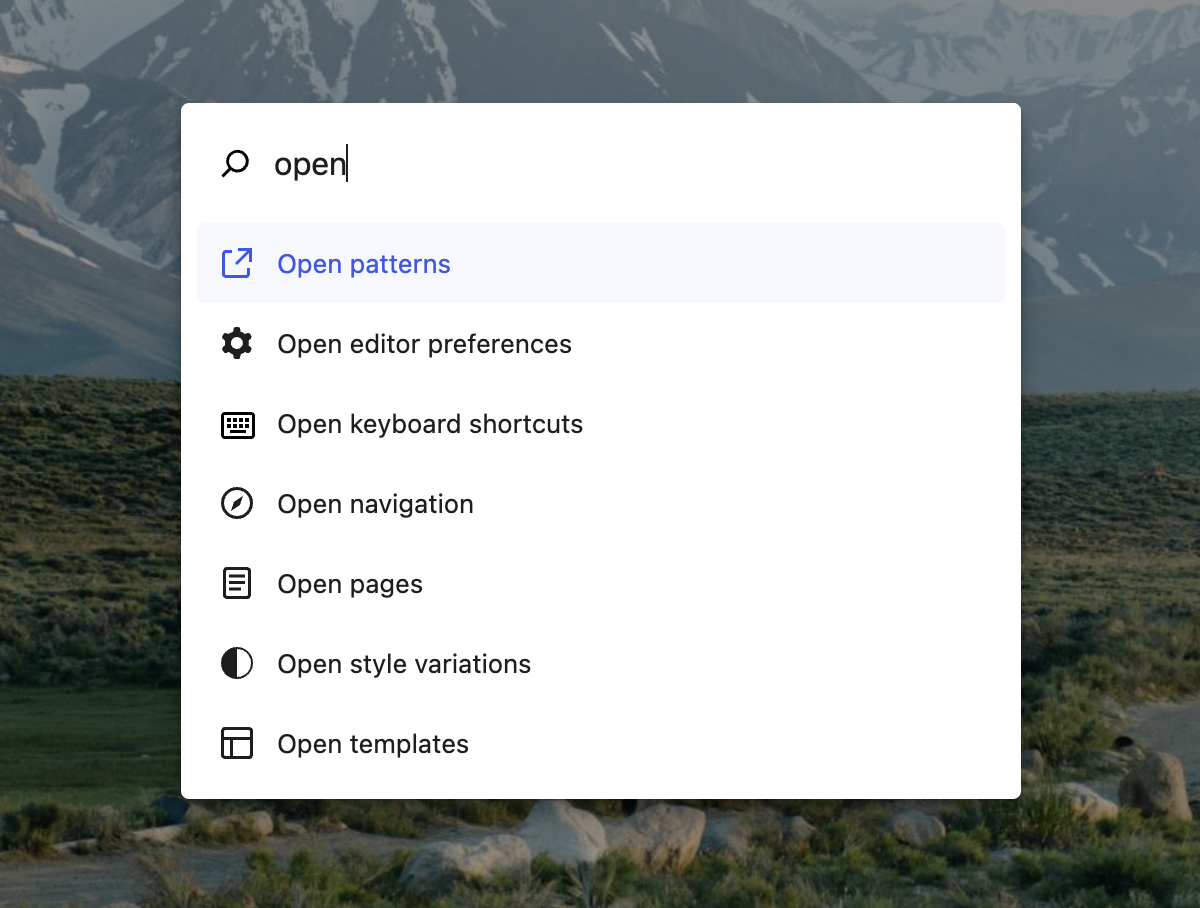 Site Editing
Specific refinements and enhancements that improve the broader WordPress user experience are a focus of release 6.4.
Add "Show Template" toggle when editing pages.
Add discussion settings/detail for pages.
Display current modifications in the "Browse styles" panel.
Remove coupling of template and template parts when switching themes.
Site Editing: Hide page/post title.
Site Editor → Page Inspector: Add the ability to switch templates.
Align page edit features in Site Editor and Post Editor.
Add missing CSS classes to templates.
Explore improvements to the Styles panel in Site Editor.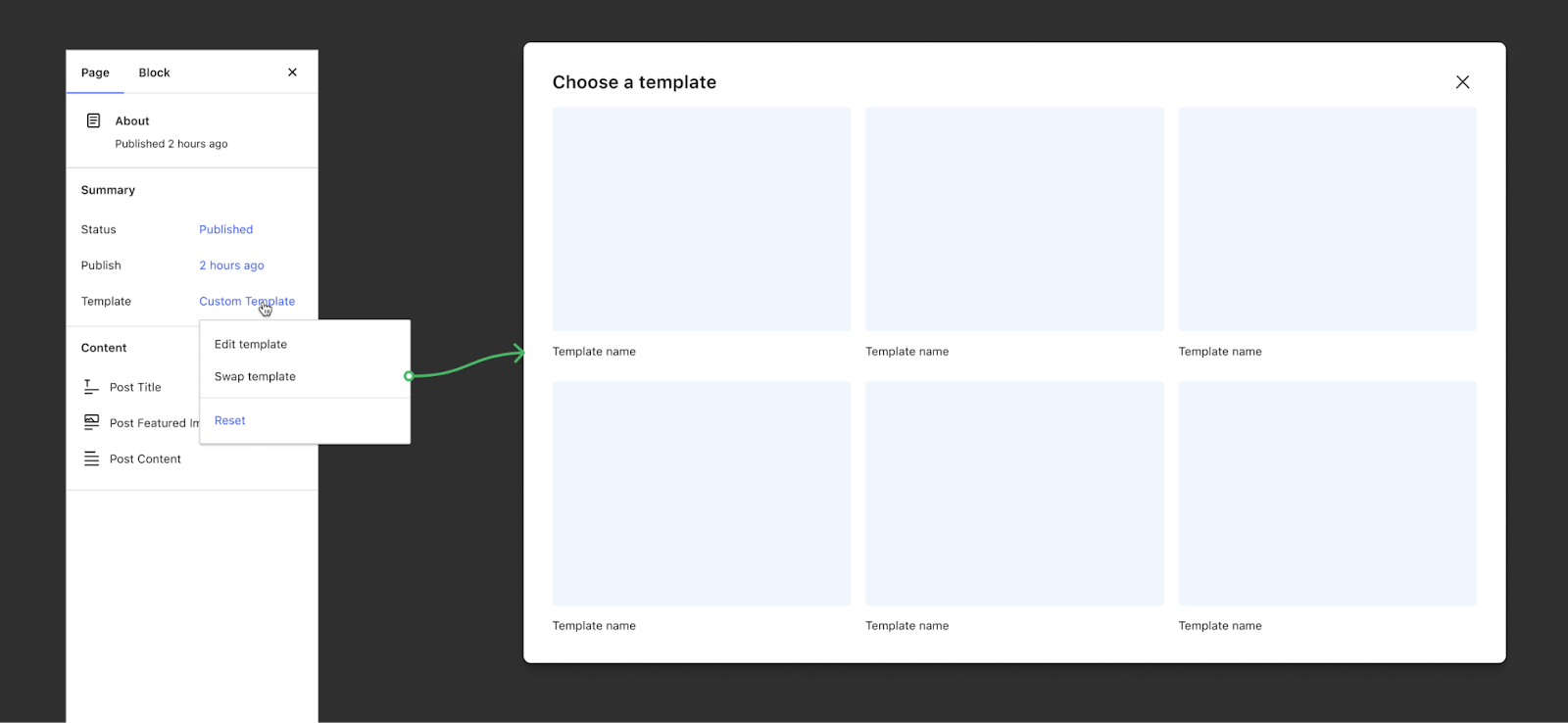 Design Tools
To enable more complex designs, various design tooling-related enhancements and additional functionality are being explored. These efforts range from block-specific changes like adding support for background images to the Group block, to larger efforts like extending theme.json to provide spacing size presets:
Add box shadow component.
Extend theme.json to provide spacing size presets.
Add the ability for theme developers to configure their own default min and max viewport widths for calculating fluid font sizes.
Expanding and simplifying layout controls, including block support and the UI.
Custom CSS Enhancements.
Addressing design tooling consistency.
Add block instance elements support for buttons and headings as a first step in the broader idea of element sets.
Advancing more aspect ratio support.
Global Styles: Add support for elements to individual blocks.
Site Logo: Add width unit support.
Cover: Set custom color when applying the initial background image.
Elements: Add support for text-based inputs.
Categories: Add a list style type option to the categories block.
Group Block: Add support for Background Images.
Media + Text: Support featured image.

Global Styles
Global styles are both a system and an interface for managing styling across your site, from individual changes to a block to sweeping changes across an entire site. This current effort continues to evolve along the same lines and across a broad range of items, from more technical updates in theme.json, to more UI-centered work around the Style Book tool. To continue to broaden the possibilities with the built-in style system and to make it as easy as possible to use, the following work is planned:
Style revisions: Add a side-by-side comparison, add pagination, add a reset to default revision.
Style book: Iterate on presentation and design, add the ability to focus on individual block types, and integrate patterns.
Theme.json: Enable references to work, add section-specific theme.json capabilities.
Styles experience: exploring how best to represent the hierarchy of styles, show inherited styles, and manage style variations.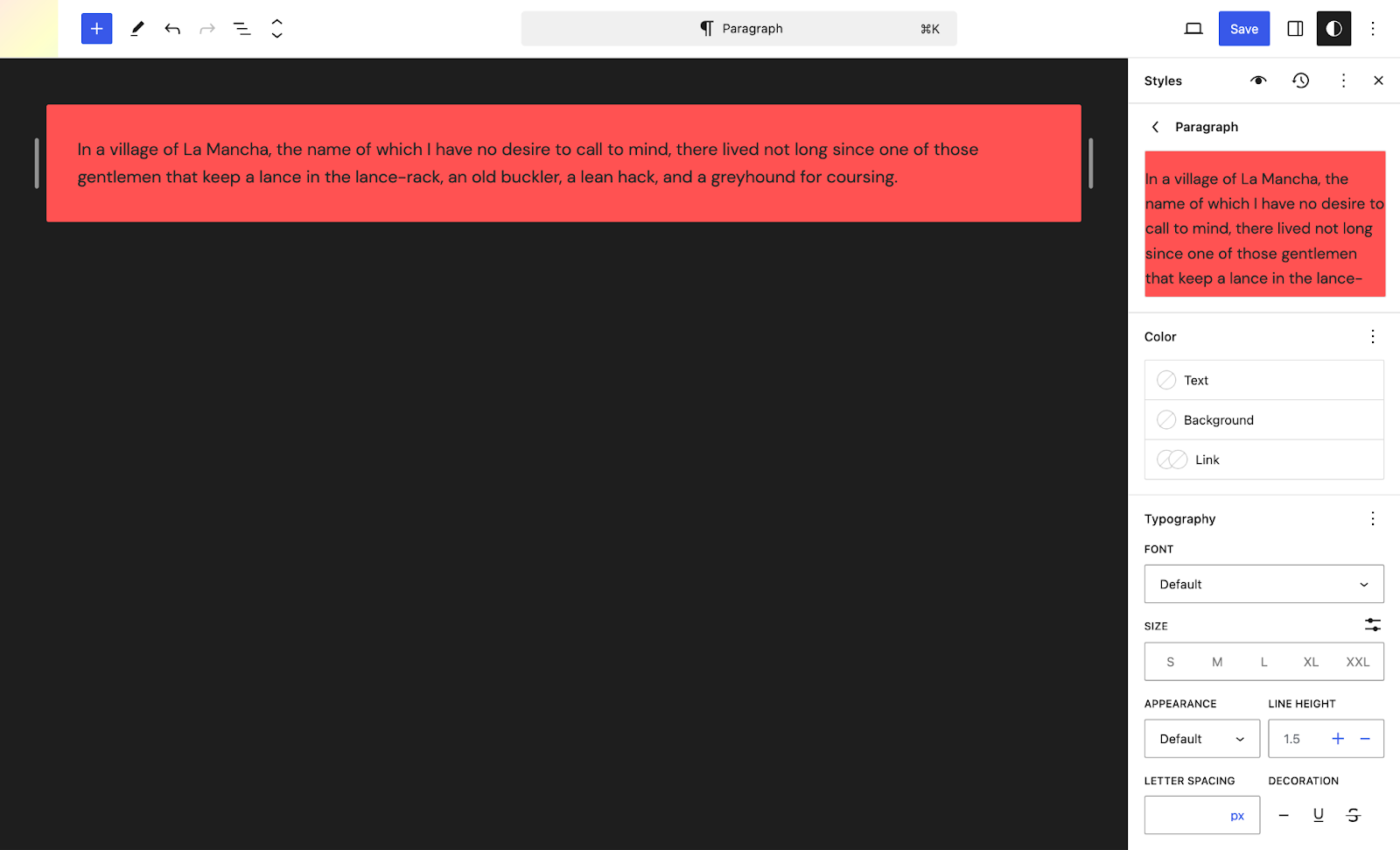 Patterns
After introducing the ability to create patterns directly in the editing experience, more advanced features and various quality-of-life improvements are planned for 6.4, including the following:
Add the ability to set categories.
Update the inserter experience to ensure consistency between synced and unsynced.
Improve compatibility for non-block themes.
Iterate on patterns page's empty category state.
Synced Patterns: Not receiving alignment attributes in the editor.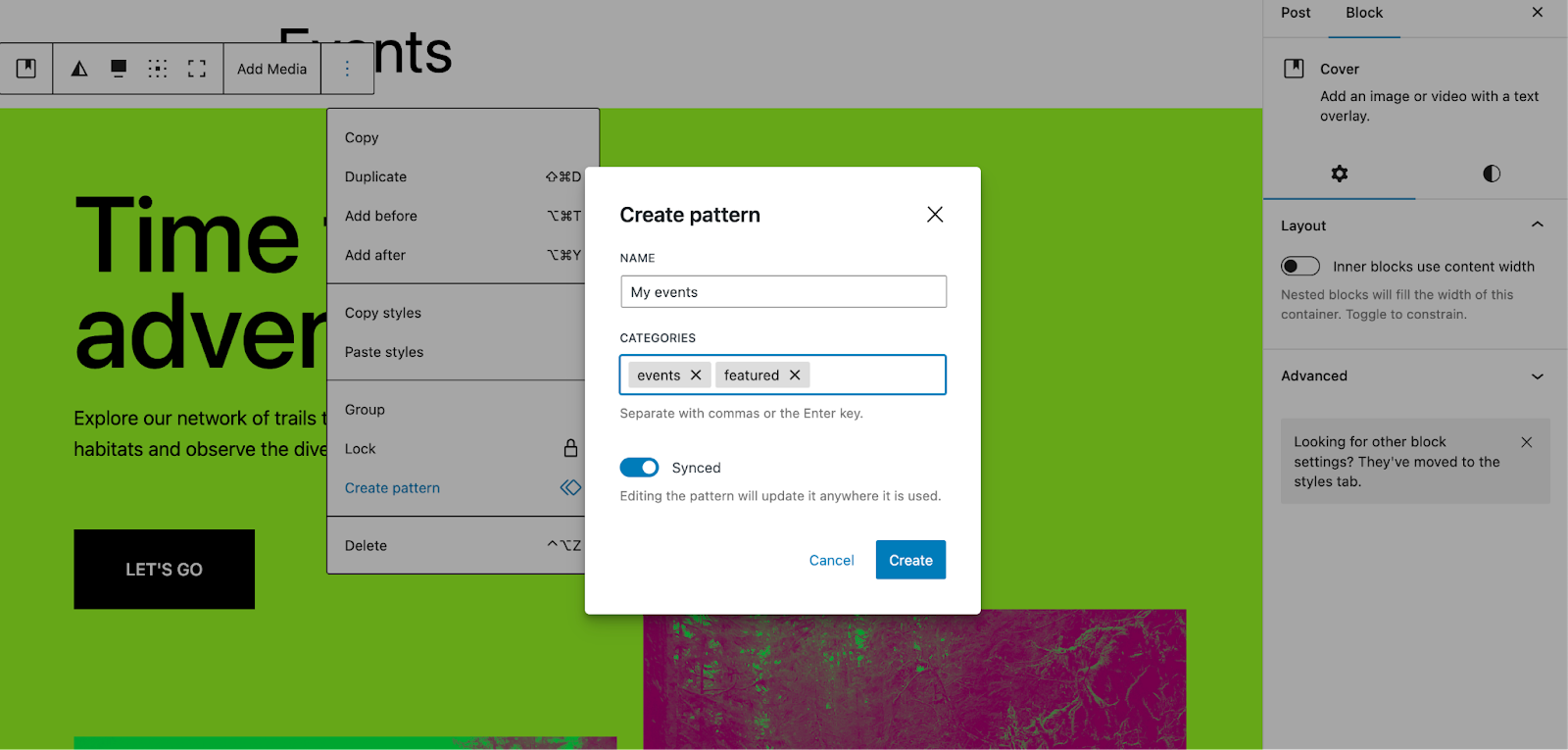 Navigation Creation and Management
As with every release since WordPress 5.9, the Navigation block and navigation management refinements continue to have a specific focus: to make it more robust and useful, especially when it comes to various responsive needs:
Overlay referenced as a template part
Add the ability to see where each menu is used.
Add the ability to style the current menu item.
Allow an option to set a custom icon.
Add the ability to set different links on mobile.
Explore a bulk add mode.
Continued iteration to improve fallbacks.
Query Loop Block
To better enable more complex queries and bring more options for displaying posts, the following items are being worked on:
Consider adding a Term Query Loop Block.
Add the option to not repeat posts already shown by other Query Loop blocks displayed on the same page.
Query block: client-side pagination, powered by the Interactivity API.
Footnotes
Introduced in WordPress 6.3, the Footnotes block continues to evolve with more design tooling available and custom post-type compatibility work:
Add typography, dimensions, and border block supports.
Add link, background, and text color support.
Ensure compatibility with Custom Post Types.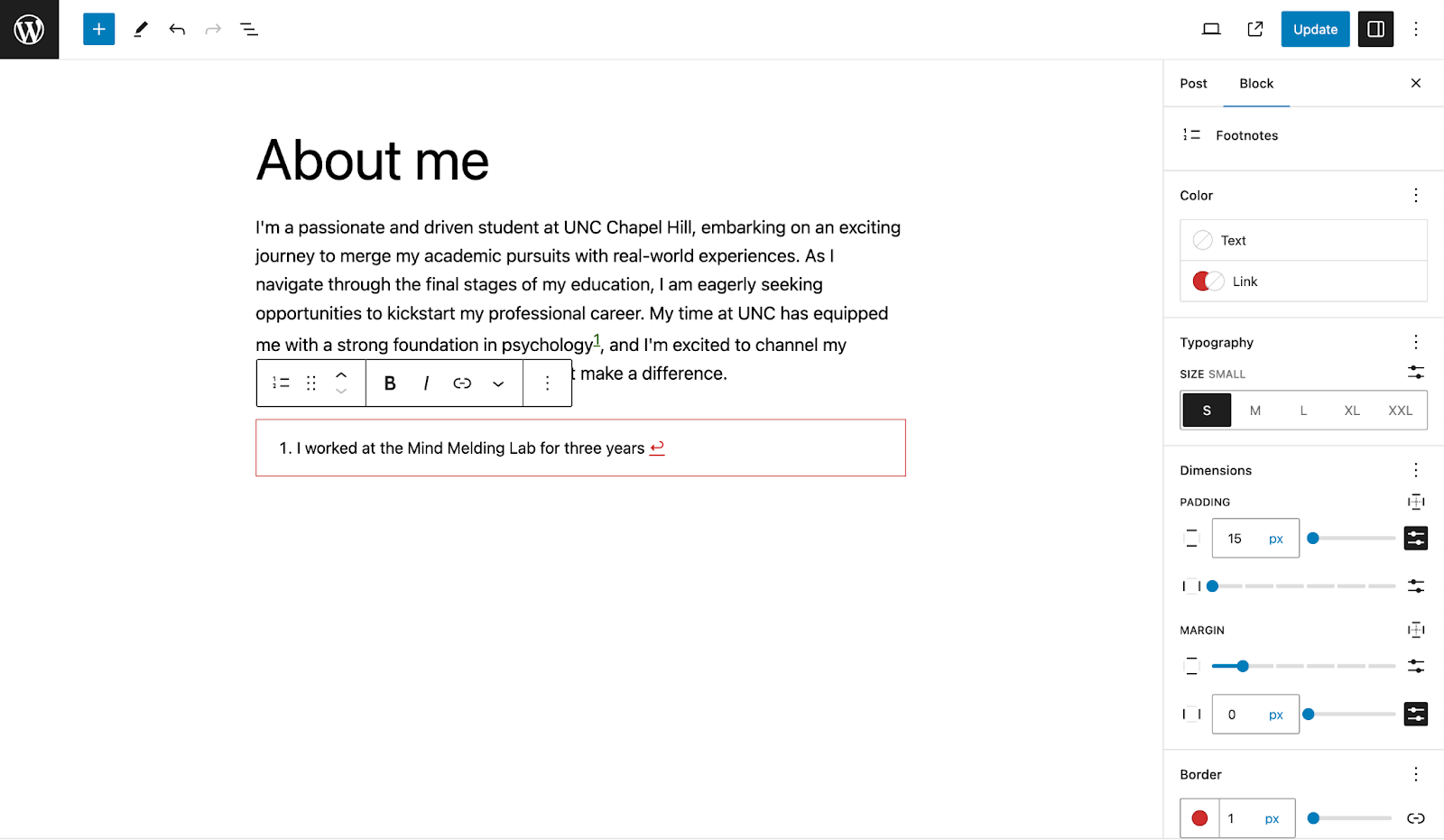 Forward-Thinking Leadership
Harkening back to what we first saw with the release of WordPress 5.6, "Simone," on December 8, 2020, the development of WordPress 6.4 is being led entirely by a team of self-identifying women, nonbinary, and gender-expansive contributors.
The full inclusiveness of this leadership model is in keeping with the open and collaborative nature of WordPress, where contributions from anyone, regardless of how they identify themselves, are welcomed.
Happy Anniversary
WordPress 6.4 will be the final release of the CMS in 2023, a year that marks the 20th anniversary of the first version, affectionately nicknamed "Davis" after jazz musician Miles Davis, which debuted on May 27, 2003. Version 6.4 will be the 48th release of WordPress, and while this content management system has already come a long way since its inception, its open-source structure and collaborative spirit ensure that it will continue to evolve and improve to empower people to create and manage their own digital presence well into the future.